What's New
Now Out: Essay 2114 on 昧 (dim), Radical Note 117, and 1 Revision
Jun 17, 2022
The 446th essay has posted! Essay 2114 on 昧 (dim; foolish) is now available for purchase. Here's a preview: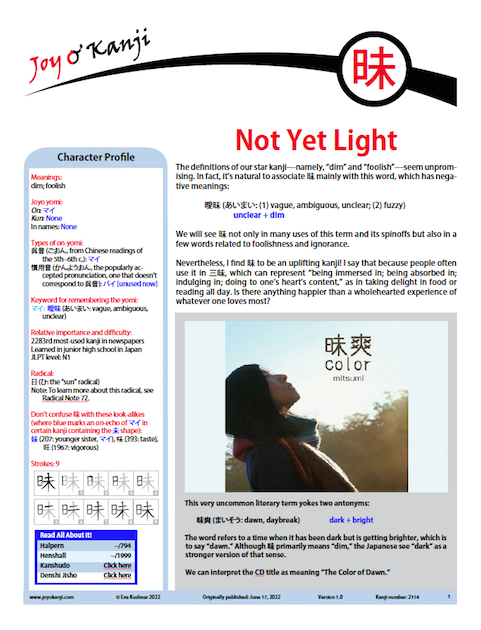 With 昧 you can describe wording or stances as vague and can call people stupid and ignorant. But the real fun comes in with a term that people use to discuss immersions, as in, "I'm spending my life indulging in fantasies, writing, and naps" or "He spent his days just reading books." This term can also pull you over to the dark side: "He lived a short life as a result of the evil acts he committed."
In addition, Radical Note 117 on 立 (standing) has posted. This free resource teaches you to distinguish the on-duty radical in kanji such as 章 (318: written passage) and 競 (463: competition) from similar-looking radicals.
Also, a revision of the following essay is now available:
essay 1461 on 曖 (unclear)
Ulrike will return soon with more great mnemonics.