117. The "Standing" Radical: 立
The five-stroke 立 radical and the following kanji share several things:
立 (73: to stand, be independent; erect, establish, rise; start)
Just as this character carries the Joyo kun-yomi た•つ, the 立 radical is called たつ. And just as the kanji primarily means "to stand," the English radical name is "standing" or "stand."
Henshall says in his newer edition that the shape of 立 has changed little over the years and initially depicted a standing person. The lower horizontal stroke represented the ground beneath that lone figure and emphasized the act of standing, rather than the person.
Our radical is on duty in just five Joyo kanji, including 立 itself. Here are three more in that group:
章 (318: written passage; badge, medal, emblem)
童 (363: child)
競 (463: competition)
Originally, none of these characters included the 立 shape, according to the same source. Instead, 辛 was in the bronze form of 童 (363), says Henshall. He seems to imply that 辛 also played a role in the early life of 章 (318), though I can't quite tell.
That brings us to a useful point. Don't think you've spotted the 立 radical in characters that actually contain these radicals:
辛 (radical 160: "bitter")
音 (radical 180: "sound")
竜 (radical 212: "big dragon")
And don't confuse 立 with this somewhat similar-looking radical:
文 (radical 67: "literature")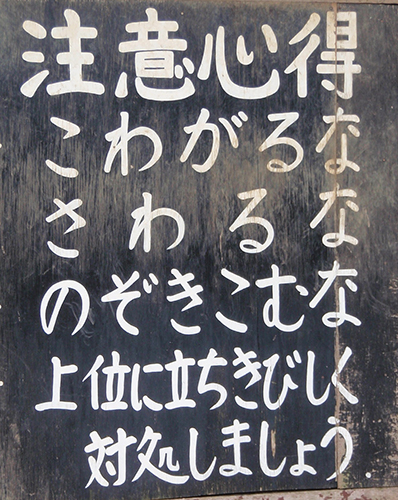 Photo Credit: Eve Kushner
On the Left Side
When 立 occupies the left side of a kanji, the radical name たつへん applies, as is true here:
端 (1567: end; start; edge; fragment)
Note that our radical becomes skinny on the left.
Henshall says that in one view 端 combines 立 (stand) with 耑 (plant growing). Together the two sides originally represented "upright." He calls "edge, extremity" extended senses. And he cites another theory in which the 耑 phonetically conveys "flat," yielding the overall meaning "stand with good posture."
Photo Credit: Eve Kushner