JOK Notebook
Colorful Calligraphy
Sep 27, 2021
On a recent road trip through Oregon and Washington State, I had a great, though brief, reunion with Laurence "Lani" Wiig. Years ago, he edited my kanji book, and he has since developed an evolving style of kanji calligraphy. This rendering of the prefecture name 石川 (いしかわ) is one of my favorite pieces of his: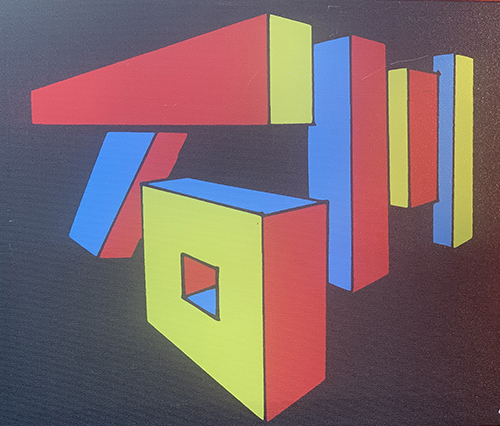 The day of the reunion, my husband and I had hundreds of miles to cover, as well as a two-hour get-together with a childhood friend of mine in Eugene. When our lunch ended, so did a University of Oregon football game in that city, unleashing a beastly traffic jam that we enjoyed all the way to Portland. That left us almost no time to see Lani on the Portland outskirts, but he was intent on showing me his calligraphy, so he met us in a hotel parking lot near the freeway and gave us a trunk show of his art. That is, he pulled it out of his car trunk! Here we are, each with a shirt matching the car behind us: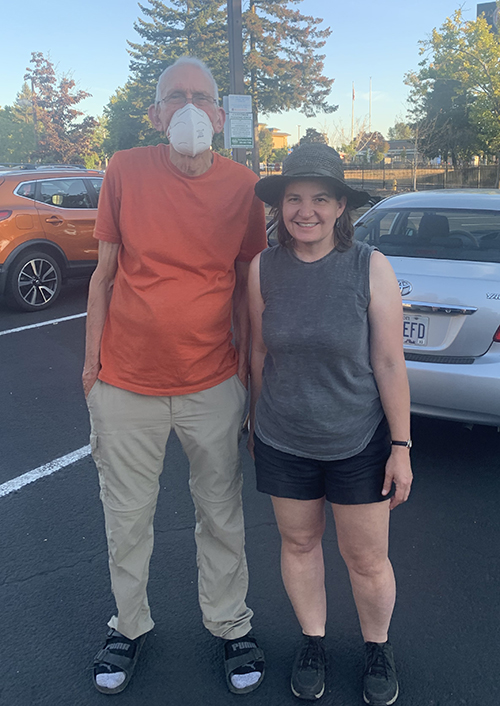 Lani grew up in kanji-rich Honolulu and is an avowed kanji-phile. As an adult, he spent 11 years living in Japan and holds an M.A. in Asian Studies from Hiroshima University. He has studied traditional calligraphy in Portland, but his work is anything but traditional.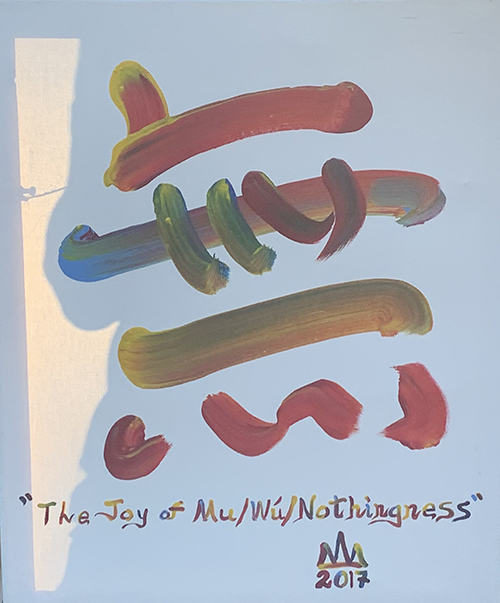 Purists deride colorful calligraphy, as he well knows. However, when I posted his art on Facebook, even professional calligraphers from Japan gave it a "heart" rating!
This experiment with a Mondrian style honors both his artistic mom and his language-loving mother-in-law: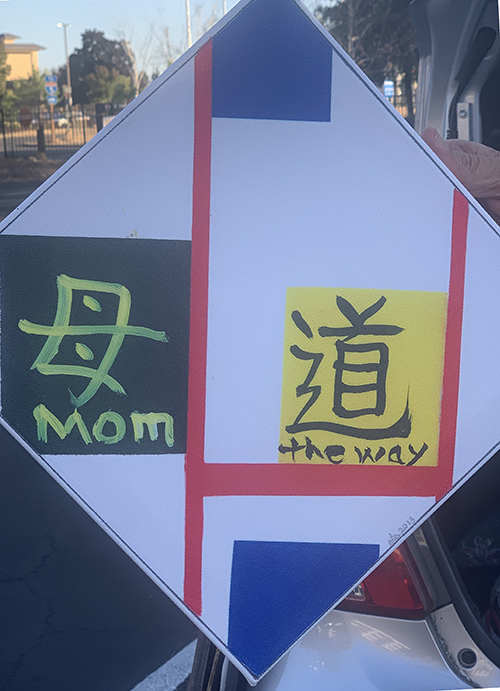 Please excuse the photography. The works should be exhibited in a museum, not a parking lot!
Lani just turned 80 and has more energy than most people I know. I love his boundless enthusiasm and his cheerfulness. Speaking of that, he meant for this 笑 to look especially cheerful, rather like a smiling face: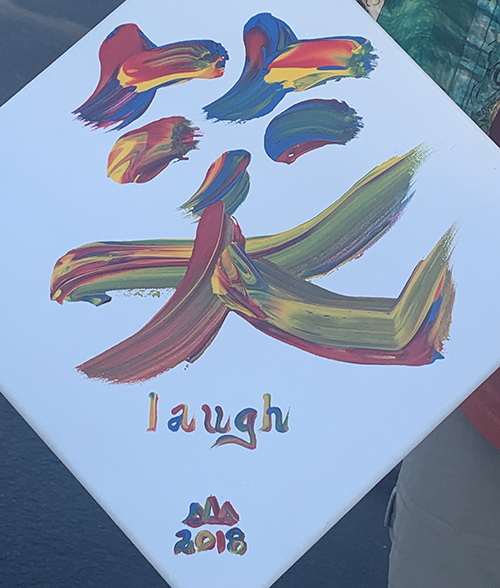 The next two pieces were for his wife and daughter, respectively: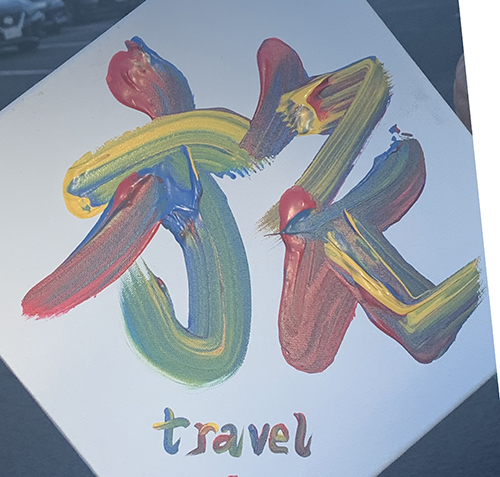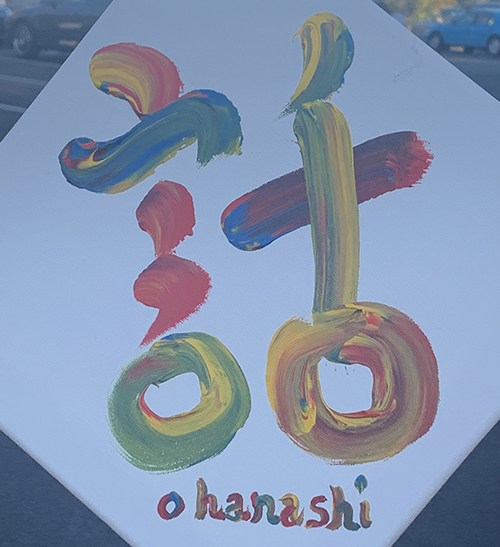 His daughter is creating artwork for a children's 話 (はなし: story).
Lani rendered 種 (たね: seeds) for a staff member at a nearby senior center: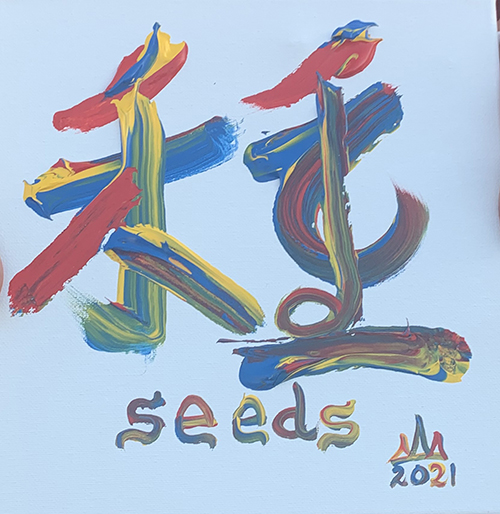 Actually, Lani presented the man with a selection of five kanji. He chose 種 because he found it dramatic. Furthermore, he described his mission in working with senior citizens as planting seeds in their lives.
Lani is a proud alumnus of Punahou (the same Honolulu school from which Obama graduated 20 years later) and created calligraphy for puna and hou, which respectively mean "spring" (泉) and "new" (新) in Hawaiian: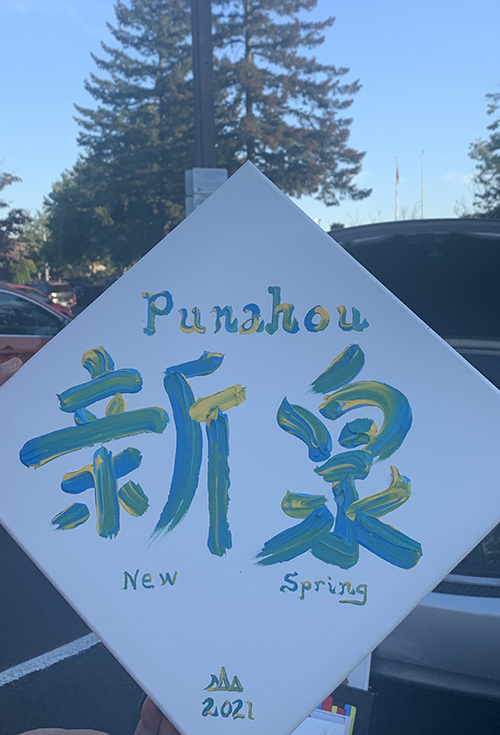 He reversed the sequence of characters to match Japanese syntax (that is, "new spring" rather than "spring new").
At Punahou, the vice president for institutional advancement is Noelehua Lyons Archambault, who has been especially supportive of Lani's colorful calligraphy. She must have loved this gift: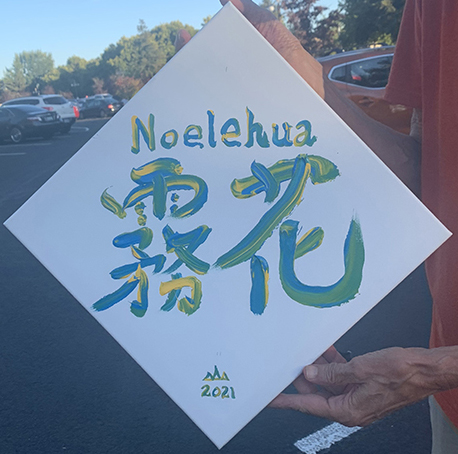 Noe is Hawaiian for "mist" (霧), and lehua is a fragrant "flower" (花) that grows abundantly in Hawaii.
Had she thanked him in Chinese (which would have been random, admittedly!), she would have said xiexie, rendered with a duplicated 謝:
This last one feels quite appropriate because Lani's great efforts to share and explain his art fill me with deep gratitude, as do his love of kanji and calligraphy—and his unconventional take on it all!