What's New
Now Out: Essay 2030 on 袖 (sleeve), a Radical Note, 28 Revisions, and 5 New-Monics
Feb 11, 2022
The 432nd essay has posted! Essay 2030 on 袖 (sleeve; extension) is now available for purchase. Here's a preview: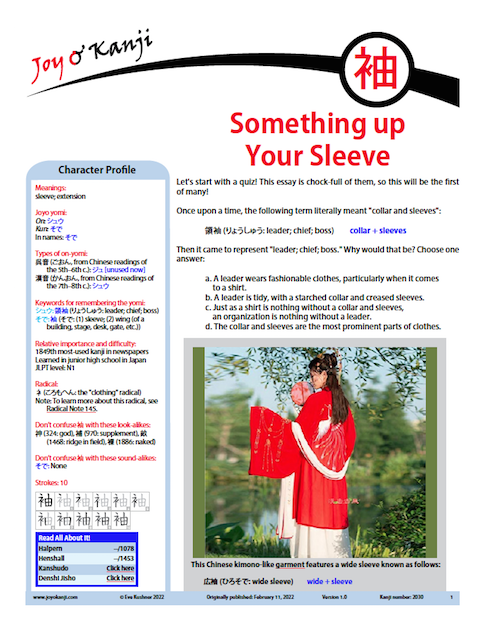 An essay chock-full of quizzes explains how sleeves have connections to shady dealings, sexual attraction, and lanterns. See how kimono design relates to marital status. Find out about a cursed kimono and a fish that has fins like kimono sleeves. Learn to say "signboard projecting from a building" and "desk with drawers on one side," as well as "I'd like a long-sleeved shirt in yellow."
Also, Radical Note 33 on the "samurai" radical 士 has posted. Discover several mysteries swirling around 士 (494: military man; samurai) and what body part that shape might represent. Also see photos showing how the Japanese use that kanji most.
Furthermore, 28 essay revisions have posted:
For details, see the links. If you've bought these essays before or if you have a subscription, you can download new versions for free.
Finally, Ulrike created the following new-monics:
診 (1440: to examine (medically))
寝 (1441: sleep)
盛 (1476: thriving)
婿 (1477: husband)
請 (1479: request)