What's New
Now Out: Essay 1999 on 隙 (gap), 2 Revisions, and 5 New-Monics
Aug 7, 2020
The 382nd essay has posted! Essay 1999 on 隙 (gap; unguarded moment) is now available for purchase. Here's a preview: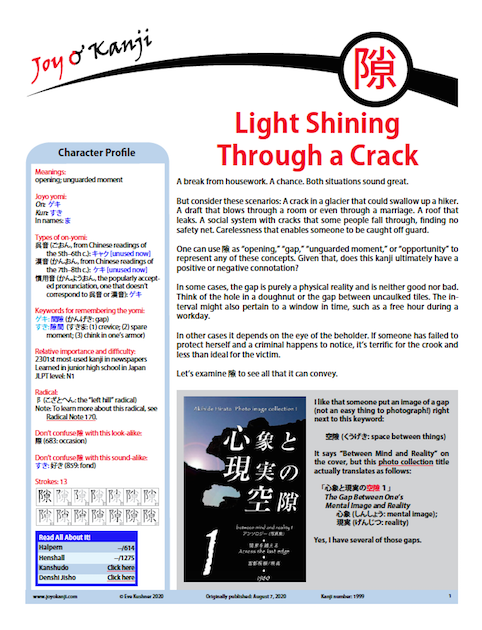 Learn to use 隙 to represent everything from physical gaps to mental ones. Find out how drafts can blow through houses and marriages. And discover how to say the following: "Rain was dripping through a leak in the roof," "Sweets are jam-packed in the box," "He began to talk before I could state my name," "He is utterly unguarded," and "Internet scams catch users off guard."
Also, revisions of these essays posted:
essay 2012 on 痕 (scar; trace; mark)
essay 2118 on 麺 (noodles)
Click the links for details about the changes. If you've purchased these essays or if you have a subscription, you can download the revisions for free.
Finally, Ulrike created the following new-monics (which are free!):
念 (561: thoughts)
迷 (797: to be lost)
嫉 (2027: jealous)
謎 (2087: mystery)
捻 (2091: to twist)