What's New
Now Out: Essay 1250 on 肯 (to affirm), Radical Notes 72 and 73, Three Essay Revisions, and Four New-Monics
Jul 8, 2022
The 448th essay has posted! Essay 1250 on 肯 (to affirm; consent) is now available for purchase. Here's a preview: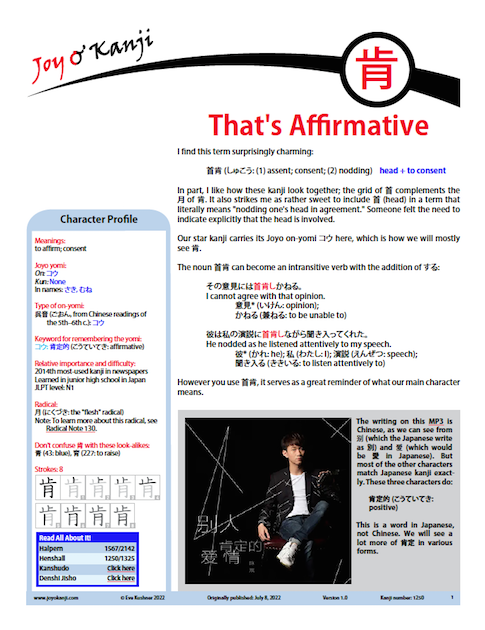 You'll be nodding your head in agreement as you discover terms for "consent" and "affirmation," as well as "self-esteem." Learn to say, "The author received a bunch of positive reviews," "The answer was yes," "There are many positive opinions about the original plan," "I cannot agree with that opinion," and "He nodded as he listened attentively to my speech."
I revamped Radical Note 72 on 日 (the "sun" radical) to reflect interpretations in Henshall's newer edition. Moreover, I created a short Radical Note 73, using material extracted from Radical Note 72 and adding information. Here's the link for that new piece:
Three essay revisions have also posted:
If you've bought these essays before or if you have a subscription, you can download the new versions for free.
Finally, Ulrike has created these new-monics:
旅 (410: travel)
栄 (427: to prosper)
奥 (1038: deep part)
華 (1046: gorgeous)