What's New
Now Out: Essay 1150 on 朽 (decay), 2 Radical Notes, 1 Revision, and 6 New-Monics
Nov 11, 2022
The 465th essay has posted. Essay 1150 on 朽 (decay) is now available for purchase. Here's a preview: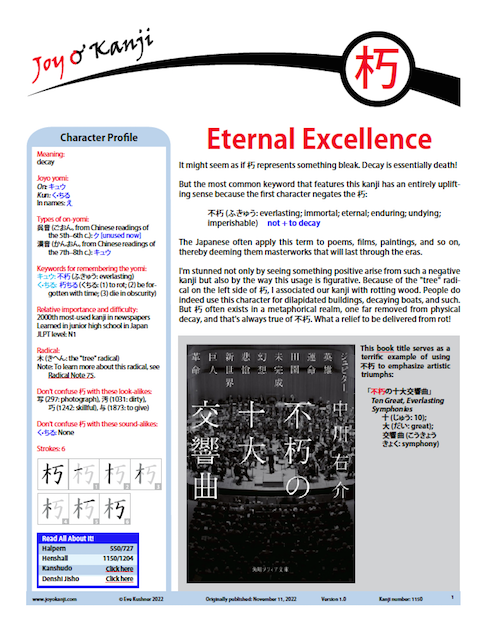 Learn how to marvel that a work of art will last forever, saying things like "This film is a timeless masterpiece" and "He wrote enduring poems." Also find out how to talk about dilapidated buildings. And see how the Japanese refer to rotting wood and how they would say, "There is nothing that does not decay" and "The wooden boat was so rotten that people assumed it would sink."
Two Radical Notes have posted:
• Radical Note 111 on 矢, the "arrow" radical
Find out why an arrow flew into kanji such as 知 (169: to know), 短 (342: short), and 矯 (1170: to correct)!
• Radical Note 132 on 自, the "oneself" radical:
See why this radical is in both 自 (134: self) and 臭 (1356: stink)!
These resources are free!
Also, I've revised the following essay:
essay 1749 on 怖 (fear; scary; afraid)
Click on the link for details. If you've bought this essay before or if you have a subscription, you can download the new version for free.
Finally, Ulrike has created these new-monics, which are also free:
党 (946: political party)
批 (963: criticism)
枚 (976: flat things)
訳 (982: translation)
幼 (985: childhood)
覧 (991: to look)