JOK Notebook
Year of the Dog and a Fork in the Road
Jan 28, 2019
I am always bemused by how the Japanese identify years. Whereas 1742 (as one example) gives everyone ample information, the Japanese sometimes opt for this sort of explanation:
「『戌の満水』を歩く」
Walking Through the Chikuma Valley, the Site of
the Huge Flood of 1742, the Year of the Dog
戌の満水 (いぬのまんすい: name of a huge flood in 1742, the Year of the Dog, in which 戌 is non-Joyo); 歩く (あるく: to walk)
「寛保2年の千曲川大洪水」
The Disastrous Flooding of the Chikuma River in Year 2 of the Kanpo Era
寛保 (かんぽう: Kanpo era, 1741–1744); 年 (ねん: year); 千曲川 (ちくまがわ: Chikuma River); 大洪水 (だいこうずい: disastrous flood)
Whoever wrote this title has omitted 1742 (I supplied that part) and has instead mentioned the Year of the Dog and Year 2 of the Kanpo era!
This title appears in the new essay 1110 on 寛 (broad; magnanimous; lenient; relaxed), along with many more era names, as quite a few include 寛. Here's another:
寛文 (かんぶん: Kanbun era, 1661–1673)
I found it on a package of noodles: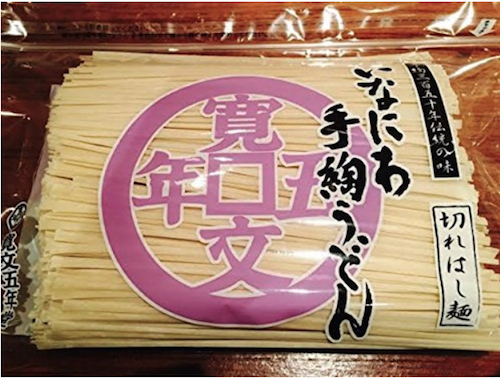 Is it wise to put 寛文五年 (かんぶんごねん: Year 5 of the Kanbun era) on an udon package? As Year 5 was 1665, that could make the noodles seem extremely unfresh! Not to worry. The 寛文五年 alludes to 寛文五年堂 (かんぶんごねんどう). That's the manufacturer's name because the company was founded that year.
The logo on the package resembles the kind of coin known as a 寛永通宝 (かんえいつうほう: copper coin from the Edo era)! A picture of such a coin appears at the start of essay 1110:
This image thrills me because I have a pair of earrings made from such coins (as shown in a photo on page 163 of Crazy for Kanji). And after I wrote essay 1110, I remembered that I also have four trivets modeled after such coins (though the characters on them represent the four seasons, deviating from coin conventions):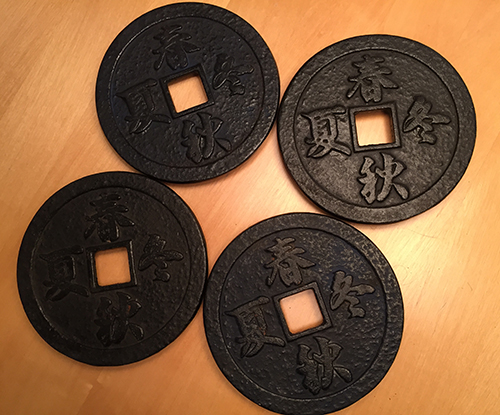 I've been using these trivets for years and had simply ceased to "see" them, just as we do when objects become extremely familiar. Now they make me spark with joy, to paraphrase Marie Kondo.
She's been very much on my mind, not only because I saw a bit of her NetFlix series but also because I spent about six hours this weekend restoring order to a room that has been a construction zone for two months, thanks to a terrible plumbing leak. As luck would have it, the leak happened behind a floor-to-ceiling bookcase, so I needed to box up all my nonfiction books, along with photo albums, record albums, and more.
Instead of mindlessly reshelving the books as they were, I made a point of evaluating how I felt about each one (so I rid myself of eight boxes of books!) and then coming up with an organizational scheme that reflects where I am right at this moment. After all, I first arranged the books nearly 20 years ago, when I had very different interests and goals. Strange as it seems, I didn't know any Japanese or kanji back then!
I think most people identify closely with their collection of novels, but because I write nonfiction, the books in that part of the house tell the story of my life from high school onward. I won't bore you with the details, but practically every book I revisited this weekend indicated how much my life has changed over the decades—how many choices I've made about what to pursue, what to stop pursuing, and what I would pursue again if only I could figure out how to succeed in that pursuit!
This term therefore feels appropriate:
分かれ道 (わかれみち: (figurative) fork in the road)
I encountered this expression in the forthcoming essay 1757 on 膚 (skin) in the following subtitle:
「美容皮膚科医が教える『美肌』と『枯れ肌』の分かれ道」
A Cosmetic Dermatologist Teaches You About the Decisions
That Lead to Beautiful Skin Versus Dry, Withered Skin
美容 (びよう: beauty); 皮膚科医 (ひふかい: dermatologist); 教える (おしえる: to teach); 美肌 (びはだ: beautiful skin); 枯れ肌 (かれはだ: withered skin)
Incidentally, I love how that book cover looks: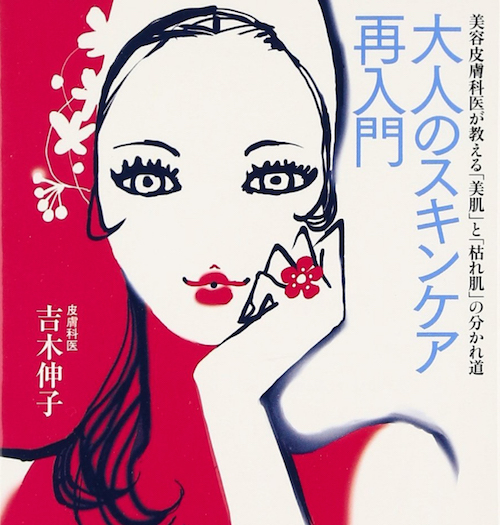 I learned that whereas "crossroads" refers to a 十-shaped intersection, 分かれ道 represents a Y-shaped one. Good to know! That actually feels more like life as we live it, struggling with two options more often than with three.
As Robert Frost said, decisions at this sort of fork make all the difference. However, I believe he was talking about something a bit more important than skincare!
Here's a preview of the new essay on 寛: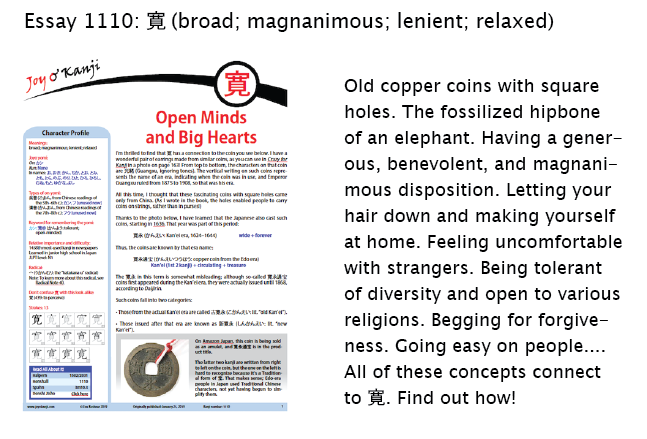 Keep an eye out for the January newsletter, closely followed by essay 1757 on 膚!
❖❖❖
Did you like this post? Express your love by supporting Joy o' Kanji on Patreon: