JOK Notebook
Win a Trip to Japan!!!
Oct 1, 2016
Do you burn with passion for all things Japanese or perhaps for just one thing Japanese? Would your life be incomplete if you couldn't go to Japan to pursue a goal and fulfill a dream? Do you crave the spotlight? And are you short on funds?
If you've answered yes to any or all of these questions, I have a solution for you! A Japanese reality TV show asked me to spread the word about what they're trying to do. You can read about it in a downloadable PDF or here: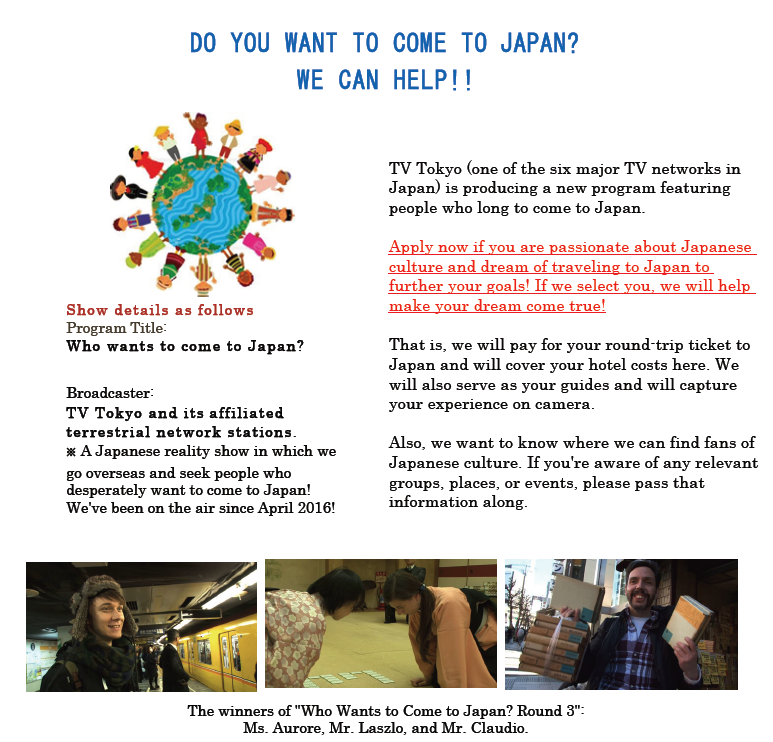 Here's some contact information:

By checking the Facebook page, you can start to gain a sense of the sorts of dreams the show helps people fulfill. But you might find even more information by going to YouTube and checking out the audition videos people have submitted.
To qualify for the show, you apparently need to make a strong case for a concrete goal that you can achieve only by going to Japan.
If you're chosen, please don't hesitate to let me know! I'd love to see your audition video and eventually the footage of your time in Japan as your dreams come true!
Whether you're traveling to Japan, already living there, or just dreaming about that possibility, you'll do well to know where all the prefectures are. It can be hard to connect some of the prefecture kanji with the actual places. Fortunately, a clever blogger from Venezuela has created a resource that might help. And if it doesn't help, it's at least vastly entertaining. Just for fun, he took a literal approach to the place names and produced this map: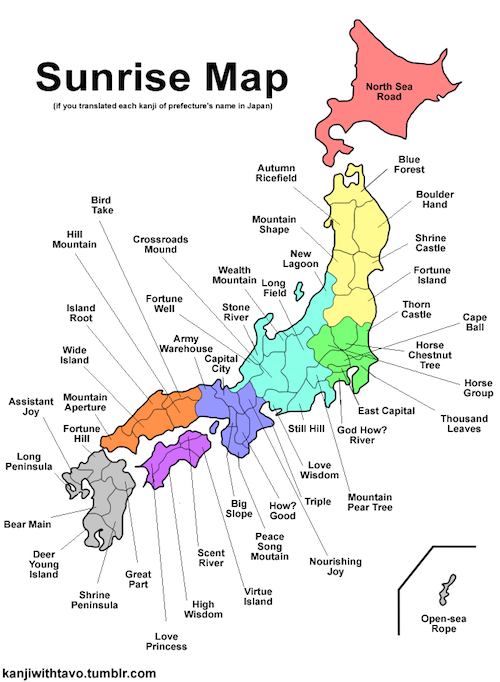 See if you can figure out which prefecture is which!
The blogger, Gustavo Galicia, has studied Japanese for four years and is passionate about learning all about kanji. His project Kanji with Tavo focuses on kanji mnemonics. With more than one hundred illustrations, his Tumblr site has become quite popular among those on Tumblr who are studying Japanese. He now has more than 5,500 followers! Unbelievable!
Speaking of studying Japanese, the 228th essay has posted on Joy o' Kanji! Here's a sneak preview of essay 1496 on 挨 (to come very close):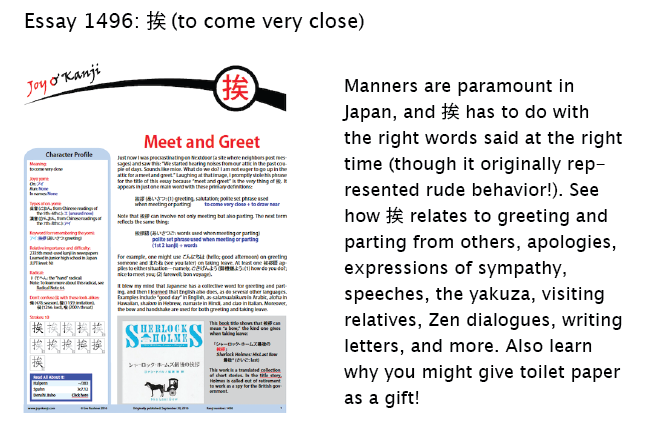 Have a great weekend!