What's New
Now Out: Essay 99 on 京 (capital) and 5 New-Monics
Feb 5, 2021
The 399th essay has posted! Essay 99 on 京 (capital; Tokyo; Kyoto) is now available for purchase. Here's a preview: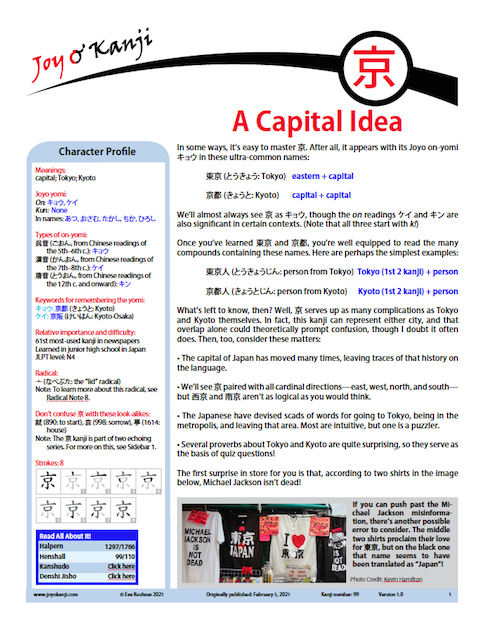 Learn to associate the キョウ, ケイ, and キン readings of 京 with very different contexts. Find out which three cities this character can represent. See how 京 pairs with all cardinal directions—but how "western capital" and "southern capital" aren't what you'd expect. (One has a relationship to miso, the other to peanuts!) And learn about the people of Tokyo and Kyoto through old proverbs.
This is a departure from my usual focus on the junior high school kanji, and I will return to upper-level characters next week. I wrote about 京 to fulfill someone's request.
Also, Ulrike created the following new-monics:
芽 (434: bud)
雅 (1057: elegance)
譜 (1759: written record)
墳 (1771: tomb)
併 (1774: joining)