What's New
Now Out: Essay 2129 on 辣 (spicy), Two Radical Notes, and Two Revisions
May 26, 2022
The 444th essay has posted! Essay 2129 on 辣 (spicy; severe) is now available for purchase. Here's a preview: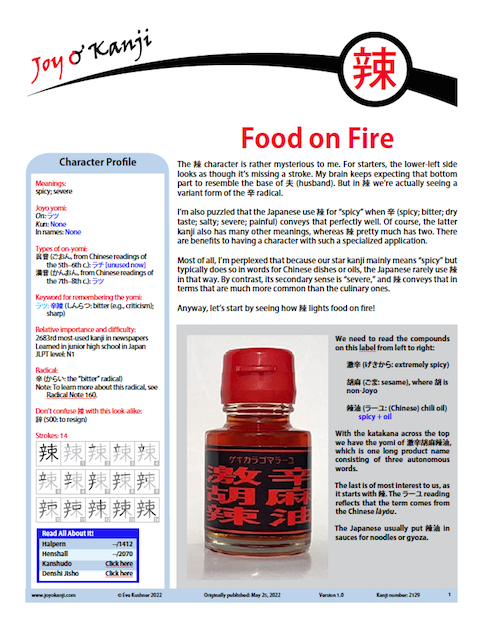 Find out how 辣 lights food on fire, especially in Chinese dishes. Learn about a spice that both wakes up the tongue and puts it to sleep. See how 辣 as "severe" appears in sentences that mean "His sharp words seemed to hurt her" and "He is a villain," as well as the manga title "The Bitter Gourmet." See why a book title about a Japanese army officer alludes to Dostoevsky.
In addition, two Radical Notes are now available:
Radical Note 139 on 色, the "color" radical: See how the radical on duty in 色 (145: color) and 艶 (1966: glossy) represents something off-color!
Radical Note 180 on 音, the "sound" radical: Find out what the radical contributes to kanji such as 韻 (1015: rhyme) and 響 (1171: echo), and learn how to see the bigger picture when it comes to this radical.
Finally, two essay revisions have posted:
Click the links to see the changes. If you've bought these essays before or if you have a subscription, you can download new versions for free.
Ulrike will return soon with more great mnemonics.