What's New
Now Out: Essay 2126 on 瘍 (swelling), Radical Note 146, and 6 New-Monics
Jul 14, 2022
The 449th essay has posted! Essay 2126 on 瘍 (swelling; tumor) is now available for purchase. Here's a preview: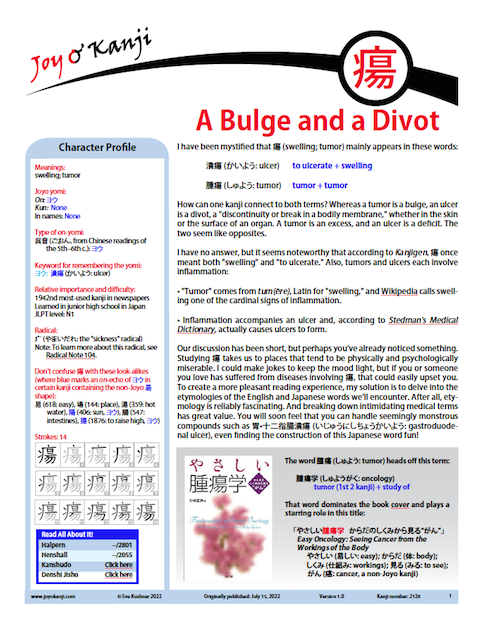 This kanji surfaces in terms for "ulcer," "tumor," and pertinent spinoffs, but don't be scared! The essay explores fascinating etymologies of medical words, making them feel fun and manageable. Learn about a "tumor of good nature" (which sounds downright amiable!), a "sperm nest," and 出来物 (which does not mean "things one can do"). Also see how 12 fingers relate to the duodenum!
Radical Note 146 on the "west" radical (襾, 覀, and 西) has also posted. Find out about the shapes, names, and meanings of the radical in kanji such as 西 (152: west) and 要 (593: need), and see how to have fun with a lotus root graphically!
Finally, Ulrike has created these new-monics:
課 (433: section)
覚 (439: to perceive)
給 (457: to give)
禍 (1051: misfortune)
寡 (1053: few)
劾 (1068: impeachment)