What's New
Now Out: Essay 2115 on 枕 (Pillow) and 5 New-Monics
Jul 1, 2016
The 217th essay has posted! Essay 2115 on 枕 (pillow; bolster) is now available for purchase. Here's a preview: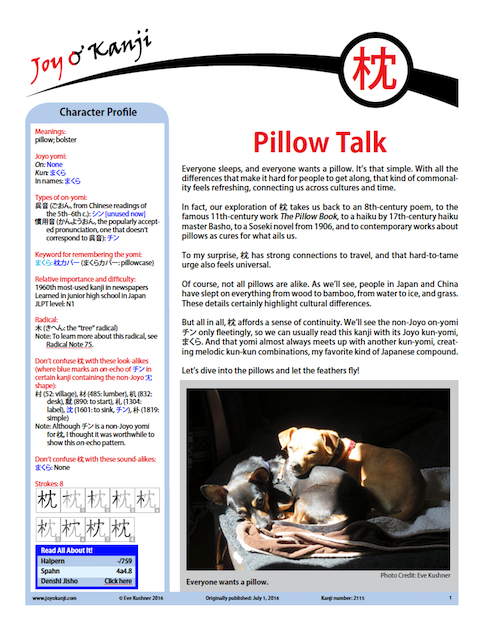 This wide-ranging essay examines literature over millennia, from ancient China to "The Pillow Book" to Basho and Soseki, plus the connections between pillows, travel, and poetry. The essay covers several types of pillows (e.g., those atop boxes, those you hug, and manly pillows), pillows as cures, pillow-flipping ghosts, figurative pillows (e.g., railroad ties!), a confection, and more.
Using the accompanying Phrase Maze game on the Character Home Page, you can practice the vocabulary in the essay after reading it.
Also, Ulrike has produced a batch of new-monics (which are free!):
鼻 (377: nose)
表 (379: front side)
服 (385: clothes)
福 (386: happiness)
俵 (775: large straw bag (esp. for rice))