What's New
Now Out: Essay 2111 on 頰 (Cheek) and 5 New-Monics
Mar 17, 2017
The 248th essay has posted! Essay 2111 on 頰 (cheek) is now available for purchase. Here's a preview: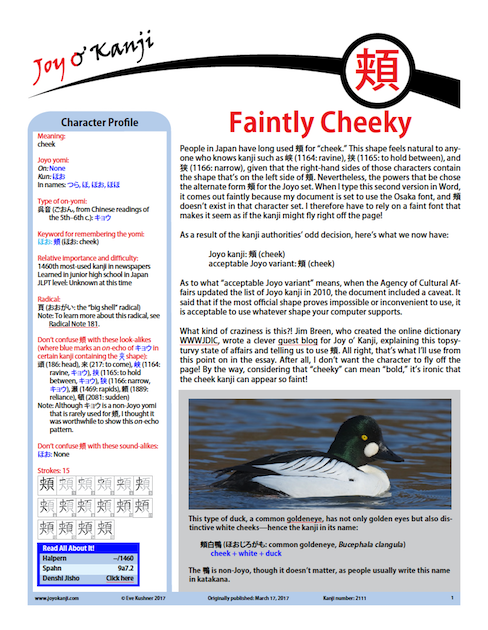 Learn how to talk about delicious food by mentioning cheeks that fall! See what full and hollow cheeks represent in Japan and how cheeks relate to smiling. Find out why people refer to cheekbones in connection with a verb that typically means "to stab." See why the Japanese once talked about fox pups' cheeks, and discover the figurative meaning of covering one's head with a cloth.
Using the accompanying game on the Character Home Page, you can practice the vocabulary in the essay after reading it.
Also, Ulrike has produced a batch of new-monics (which are free!):
入 (63: to enter)
年 (64: year)
百 (67: hundred)
万 (392: ten thousand)
込 (1275: to move inward)