What's New
Now Out: Essay 2110 on 貌 (Appearance) and 5 New-Monics
Jul 22, 2016
The 219th essay has posted! Essay 2110 on 貌 (appearance) is now available for purchase. Here's a preview: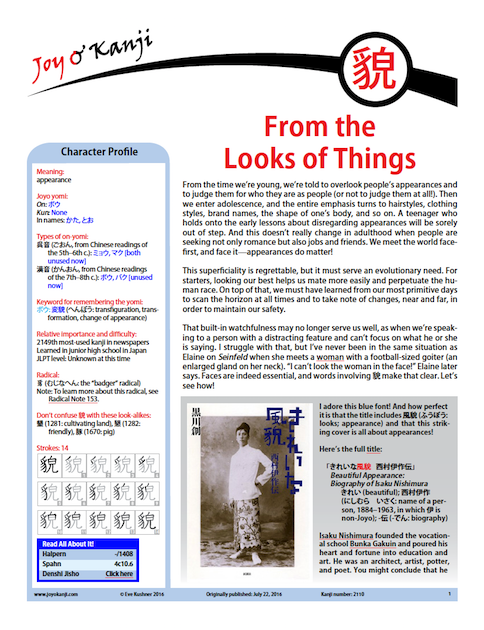 Find out how 顔 and 貌 differ when they represent "face." See what the Japanese mean when they compare someone to a sculpture. Discover the controversy surrounding the "last samurai," and read about a renowned photographer, as well as a rebellious pretty boy. Also learn to say, "I was captivated by her beauty," and to talk about drastic changes in appearance.
Using the accompanying Phrase Maze game on the Character Home Page, you can practice the vocabulary in the essay after reading it.
Also, Ulrike has produced a batch of new-monics (which are free!):
週 (308: week)
柱 (345: pillar)
調 (348: tone)
周 (504: lap)
彫 (1590: to carve)