What's New
Now Out: Essay 2108 on 麓 (Foot of a Mountain), Plus a Game Changer
Feb 3, 2017
The 243rd essay has posted! Essay 2108 on 麓 (foot of a mountain) is now available for purchase. Here's a preview: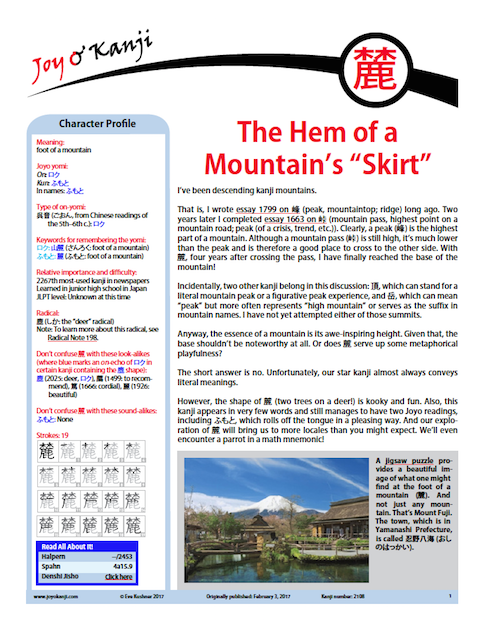 If a mountain's essence is its awe-inspiring height, its base shouldn't be important. Nevertheless, the foot of a mountain plays a role in several book and essay titles, in product marketing, and notably in the hunt for good soba. Learn about mountains named after hats, possibly after volcanoes, and even after bathrooms! Also find out about the famous parrot singing at the base of Mount Fuji!
Using the accompanying game on the Character Home Page, you can practice the vocabulary in the essay after reading it.
Speaking of games, this week marks a significant change. From now on, the game on the Character Home page may incorporate some terms from the essay that don't include the target kanji. This is because the games will eventually have a new format, one requiring a minimum of 17 keywords. When kanji (including 麓) don't factor into that many words, I'll add other terms to the game. The additional terms may recur in sample sentences in the essay (marked for that reason with an asterisk in the PDF) or may be the subject of some discussion. In other words, they won't be completely random choices!
Ulrike is off this week, as she's enjoying her Japanese guests, the ones mentioned in the recent newsletter.