What's New
Now Out: Essay 2106 on 璧 (disk-shaped jewel) and 3 New-Monics
Sep 27, 2019
The 350th essay has posted! I love round numbers like that! Essay 2106 on 璧 (disk-shaped jewel; excellent thing or person) is now available for purchase. Here's a preview: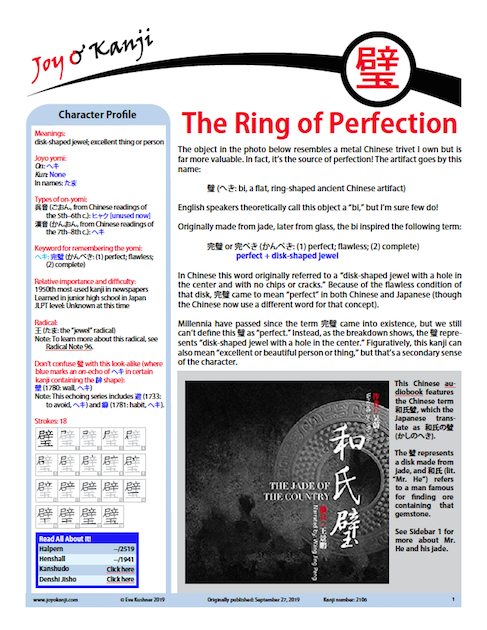 See how jade disks connect with a term for "perfect," and read the fascinating history of a hunk of ore that inspired the word. Learn to avoid a kanji error that native speakers commonly make when they write about perfection! Find out how to talk about perfection and perfectionism, as well as about people who excel at something equally and who therefore tend to become rivals.
Master the material in this essay by playing games from our partner Kanshudo.
Also, Ulrike created the following new-monics (which are free!):
陪 (1691: to accompany a superior)
賠 (1693: financial compensation)
稽 (1998: to think)