What's New
Now Out: Essay 2103 on 阜 (hill) and 7 New-Monics
Jun 5, 2015
The 170th essay has posted! Essay 2103 on 阜 (hill, mound; "left hill" radical) is now available for purchase. Here's a preview: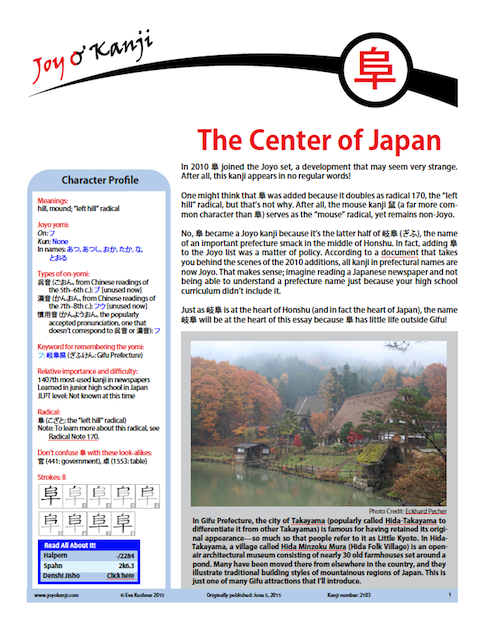 Find out why Gifu Prefecture is considered the center of Japan and has been crucial as a crossroads. Learn about Gifu products, from paper umbrellas and lanterns to swords, plus UNESCO heritage sites and a well-preserved town on the Nakasendo. Also read about cormorants that catch and regurgitate fish for the imperial family to eat, a practice that inspired a famous artist.
Using the accompanying Phrase Maze game on the Character Home Page, you can practice the vocabulary in the essay after reading it.
Also, Ulrike has produced a new batch of new-monics (which are free!):
軍 (466: army)
揮 (833: to wield)
吸 (837: to suck in)
胸 (840: chest)
劇 (848: drama)
及 (1148: to attain)
宛 (1342: address)