What's New
Now Out: Essay 2100 on 膝 (Knee) and 5 New-Monics
Nov 21, 2015
The 190th essay has posted! Essay 2100 on 膝 (knee; lap) is now available for purchase. Here's a preview: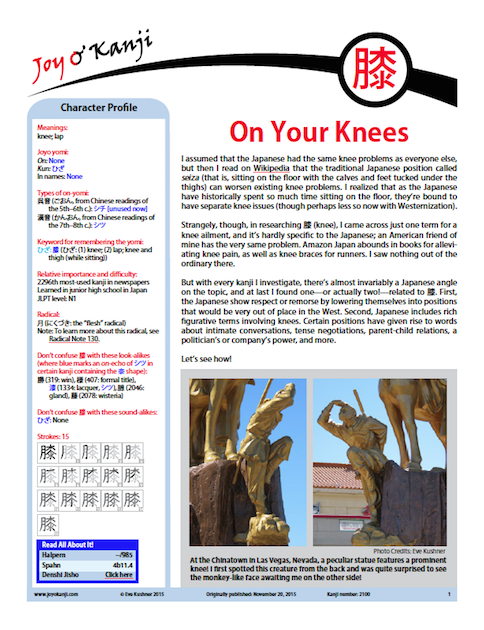 See what a Buddhist priest and a mollusk have to do with kneecaps. Also learn what role the knee plays with regard to intimacy, romance, negotiations, protection, influence, respect, and sudden emotion or comprehension. Find out why the Japanese would go down on one or both knees, even sliding forward on the knees instead of walking, and why rakugo performers hide their knees.
Using the accompanying Phrase Maze game on the Character Home Page, you can practice the vocabulary in the essay after reading it.
Also, Ulrike has produced a batch of new-monics (which are again free!):
具 (265: tool)
真 (514: true)
選 (527: to choose)
慎 (1442: prudent)
鎮 (1605: to quell)