What's New
Now Out: Essay 2097 on 阪 (Osaka), 1 Revision, and 5 New-Monics
Jun 24, 2016
The 216th essay has posted! Essay 2097 on 阪 (Osaka; slope) is now available for purchase. Here's a preview: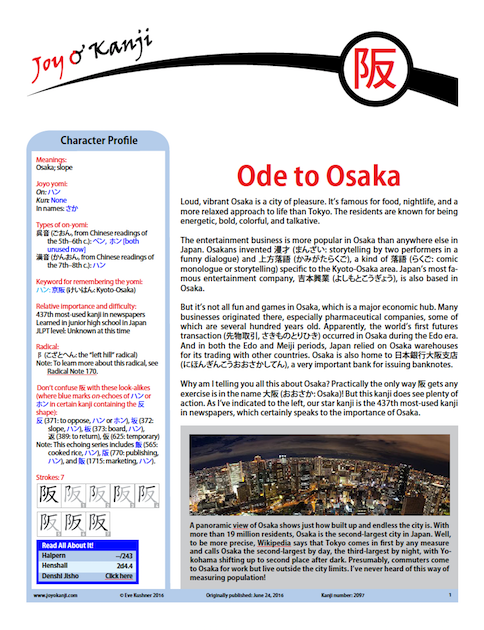 Enter the city of pleasure! This essay covers everything about Osaka, including its name, history, cuisine (e.g., Kansai sushi), castle, and entertainment industry, as well as the Osakan's colorful personality, conversational style, accent, and dialect. Learn about the "Osaka Metropolis Plan" that terrified some people, and find out about often-used terms such as "Keihan" and "Hanshin."
Using the accompanying Phrase Maze game on the Character Home Page, you can practice the vocabulary in the essay after reading it.
Also, a revision of the following essay has posted:
essay 1278 on 婚 (marriage; wedding)
Details about the changes are at the link. If you've bought this essay before or if you have a subscription, you can download a revised version for free.
Finally, Ulrike has produced a batch of new-monics (which are free!):
平 (388: flat)
味 (393: taste)
面 (395: face)
坪 (1609: 3.3 square meters)
麺 (2118: noodles)