What's New
Now Out: Essay 2078 on 藤 (wisteria) and 7 New-Monics
Mar 27, 2015
The 161st essay has posted! Essay 2078 on 藤 (wisteria) is now available for purchase. Here's a preview: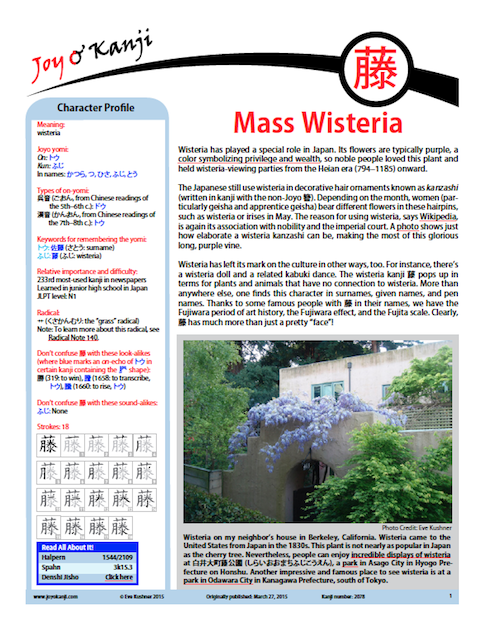 From wisteria-viewing parties to hair ornaments to a type of doll and dance, wisteria has left its mark on Japanese culture. The 藤 kanji appears in the names of colors, plants, and animals, some with no connection to this vine. Above all, one finds 藤 in people's names. Thus, we have the Fujiwara period of art history, the Fujiwara effect, and the Fujita scale of tornado intensity.
Using the accompanying Phrase Maze game on the Character Home Page, you can practice the vocabulary in the essay after reading it.
There are also several new-monics (which are free!):
乏 (1805: destitution)
撲 (1822: to slap)
了 (1905: complete)
猟 (1907: hunting game)
隣 (1915: neighboring)
鈴 (1921: small bell)
齢 (1925: age)