What's New
Now Out: Essay 2069 on 捗 (to Make Progress) and 5 New-Monics
Nov 4, 2016
The 233rd essay has posted! Essay 2069 on 捗 (to make progress) is now available for purchase. Here's a preview: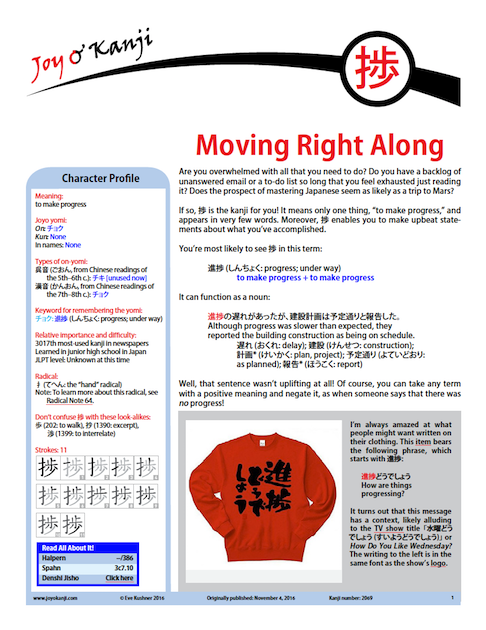 If you're overwhelmed with all that you need to do, 捗 is just the kanji for you! It has only one meaning and appears in very few words. Moreover, 捗 enables you to make upbeat statements such as "The city plan is getting under way" and "I made progress with work, so it looks like I can go home on time." The essay examines book titles about ramping up efficiency and productivity.
Using the accompanying game on the Character Home Page, you can practice the vocabulary in the essay after reading it.
Also, Ulrike has produced a batch of new-monics (which are free!):
宮 (256: palace)
説 (524: to explain)
営 (616: running a business)
侶 (2133: companion)
呂 (2136: ロ sound)