What's New
Now Out: Essay 2063 on 旦 (Dawn) and 9 New-Monics
Oct 16, 2015
The 185th essay has posted! Essay 2063 on 旦 (dawn, daybreak, morning; first day) is now available for purchase. Here's a preview: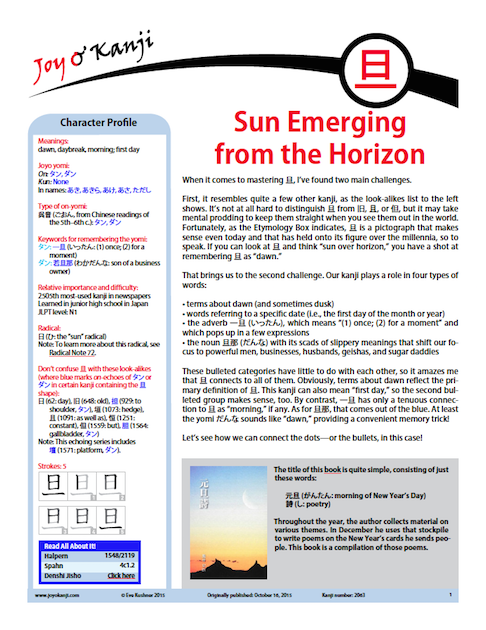 This kanji may be graphically simple, but it's associated with a bewildering mess of meanings! Primarily, 旦 relates to dawn and the first day of a year or month, but 旦 also pops up in a term meaning "momentarily" (and its spinoffs). And then a very common word with 旦 involves powerful men (and their sons and businesses) and even geishas and mistresses. The essay connects these dots!
Using the accompanying Phrase Maze game on the Character Home Page, you can practice the vocabulary in the essay after reading it.
Also, Ulrike has produced a batch of new-monics (which are free!):
加 (431: addition)
過 (629: to pass)
賀 (630: celebration)
格 (633: grade)
慣 (638: to grow accustomed to)
眼 (640: eye)
規 (643: regulation)
架 (1045: to span)
貫 (1102: to penetrate)