What's New
Now Out: Essay 2055 on 踪 (Traces) and 6 New-Monics
Apr 1, 2016
The 204th essay has posted! Essay 2055 on 踪 (traces, footprints; whereabouts) is now available for purchase. Here's a preview: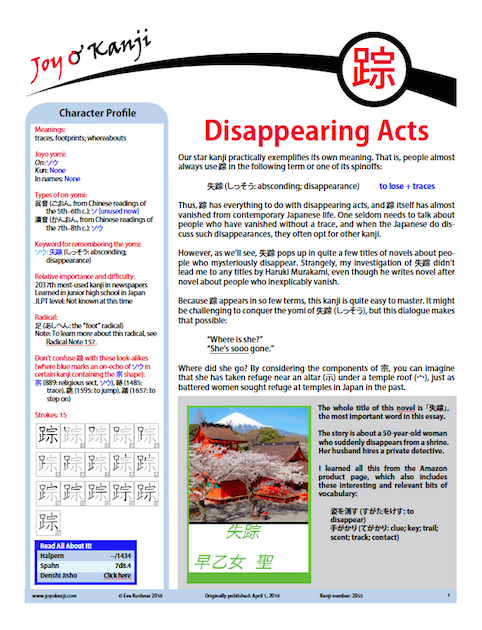 Read about people who vanish into thin air. Some disappear inexplicably (e.g., Agatha Christie!), others opt to change identities (e.g., a famous manga artist). The circumstances determine the vocabulary you need; learn to refer to the Japanese abducted by North Korea versus those who disappeared during a disaster (such as the 2011 tsunami) and are presumed dead.
Using the accompanying Phrase Maze game on the Character Home Page, you can practice the vocabulary in the essay after reading it.
Also, Ulrike has produced a batch of new-monics (which are free!):
追 (350: to chase)
定 (351: to decide)
転 (354: to rotate)
遣 (1220: to dispatch)
錠 (1423: lock)
綻 (2064: to come apart)