What's New
Now Out: Essay 2040 on 凄 (amazing) and 5 New-Monics
Sep 28, 2018
The 309th essay has posted! Essay 2040 on 凄 (amazing; frightening; to a great extent) is now available for purchase. Here's a preview: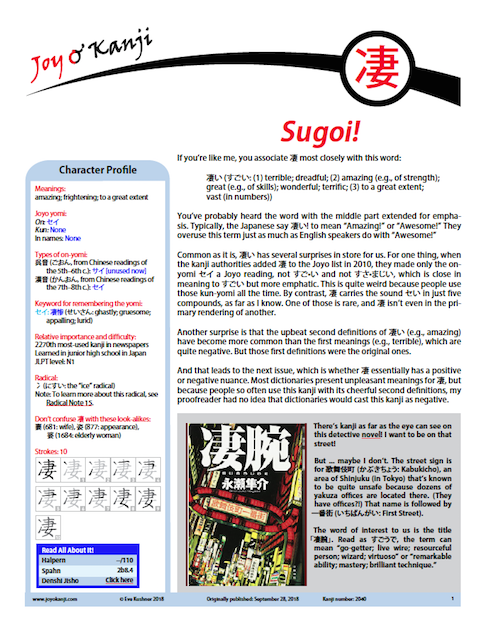 The Japanese constantly say 凄い! (すごい!: Amazing!), so it's amazing (!) to find out about 凄 and all of its surprises: the reason for its "ice" radical, the way 凄 has just one Joyo yomi (it's not すご•い!), and the shockingly negative nuance 凄 can have (as in words for "ghastly" and "violent"). Learn terms that intensify 凄い. And discover the revolting ingredient in a Viagra-like drink!
Using the accompanying game on the Character Home Page, you can practice the vocabulary in the essay after reading it.
Also, Ulrike created the following new-monics (which are free!):
幸 (279: happiness)
報 (789: information)
執 (1332: performing a task)
柵 (2018: fence with spaced slats)
摯 (2023: serious)