What's New
Now Out: Essay 2022 on 恣 (arbitrary) and 5 New-Monics
Oct 6, 2017
The 272nd essay has posted! Essay 2022 on 恣 (arbitrary; selfish) is now available for purchase. Here's a preview: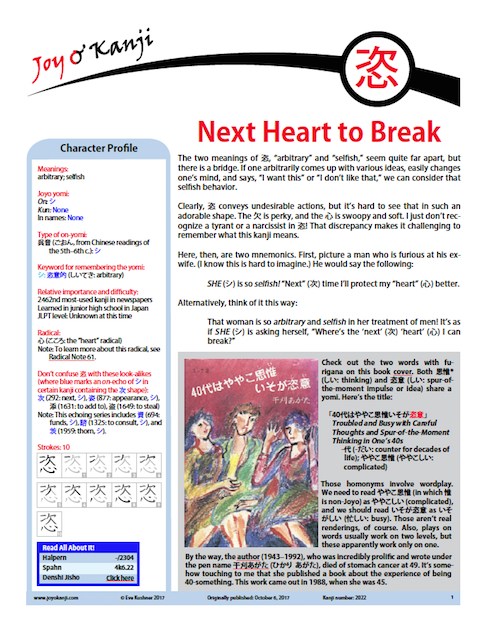 Learn two homonyms for very different types of thinking. Find out how to say, "The fear is that the law will be applied arbitrarily," "We'll have as much money as we like," and "He exercised his power to the fullest." See what "arbitrariness" has to do with linguistics. And find out what -まま means in four words, including one that implies unparalleled ability, strength, or political power.
Using the accompanying game on the Character Home Page, you can practice the vocabulary in the essay after reading it.
Also, Ulrike has produced the following new-monics (which are free!):
為 (1003: act)
喚 (1103: to call out)
偽 (1135: to deceive)
継 (1203: succession)
咲 (1303: bloom)