What's New
Now Out: Essay 2019 on 刹 (Temple) and 5 New-Monics
May 24, 2019
The 336th essay has posted! Essay 2019 on 刹 (temple; セツ sound) is now available for purchase. Here's a preview: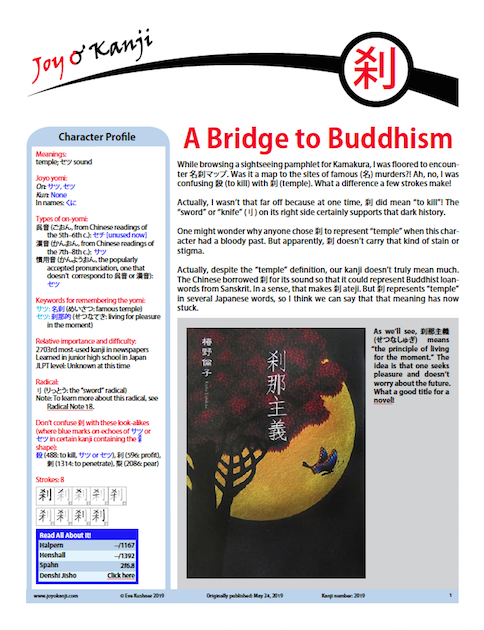 Find out about how 刹 (temple) once meant "to kill"! Learn about a shady network of Buddhist temples in the past. Discover how long a moment of consciousness is, and learn to say, "The moment I wasn't looking, the accident occurred." Also find out how to say, "I'm the sort of person who lives for the moment," and how you can aggrandize this lifestyle by calling it a principle.
Using the accompanying game on the Character Home Page, you can practice the vocabulary in the essay after reading it.
Also, Ulrike created the following new-monics (which are free!):
菜 (483: vegetable)
採 (682: to pick)
彩 (1290: color)
采 (2015: dice)
刹 (2019: temple)