What's New
Now Out: Essay 2014 on 挫 (Sprain) and 5 New-Monics
Dec 11, 2015
The 192nd essay has posted! Essay 2014 on 挫 (sprain; bruise; to discourage) is now available for purchase. Here's a preview: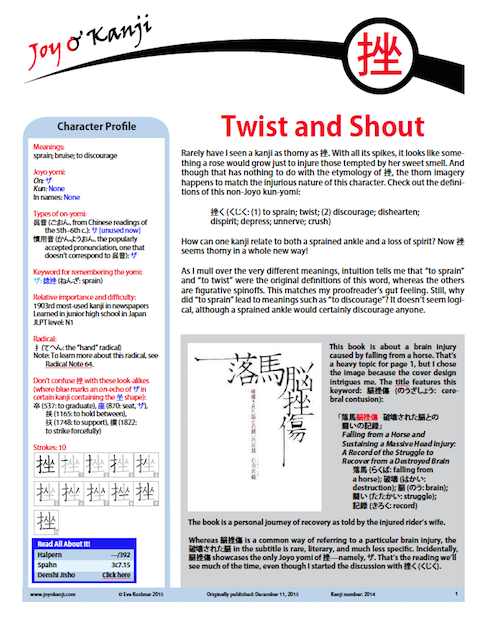 Through copious book titles you'll see how the Japanese speak of experiencing setbacks and going on to succeed. Find out how to say, "I lost my nerve," "Repeated failures crushed his ambition," and "Don't be discouraged if you fail." Also learn to talk about demoralizing opponents and thwarting plans, as well as sprains, bruises, and "crush injury" (first identified in Japan).
Using the accompanying Phrase Maze game on the Character Home Page, you can practice the vocabulary in the essay after reading it.
Also, Ulrike has produced a batch of new-monics (which are free!):
内 (364: inside)
病 (381: illness)
納 (953: to pay)
丙 (1773: third (in order or quality))
柄 (1776: character)