What's New
Now Out: Essay 2007 on 喉 (Throat) and 5 New-Monics
Jul 30, 2016
The 220th essay has posted! Essay 2007 on 喉 (throat; singing voice) is now available for purchase. Here's a preview: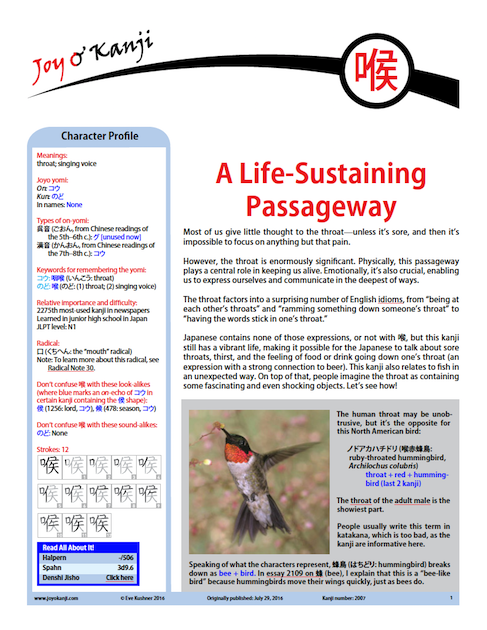 Read about how the Japanese see the throat as instrumental in holding back harsh words and unpleasant emotions. Find out what it means figuratively to swallow food that's too hot and then to forget that discomfort. See which udon comes from Shikoku, learn why people in Japan talk about the uvula, and discover which body part looks like Buddha sitting in contemplation.
Using the accompanying Phrase Maze game on the Character Home Page, you can practice the vocabulary in the essay after reading it.
Also, Ulrike has produced a batch of new-monics (which are free!):
炭 (341: charcoal)
緑 (412: green)
和 (416: harmony)
位 (421: rank)
灰 (818: ash)