What's New
Now Out: Essay 2004 on 股 (crotch) and 5 New-Monics
Jan 13, 2018
The 282nd essay has posted! Essay 2004 on 股 (crotch; thigh; fork (in tree, road, river, etc.)) is now available for purchase. Here's a preview: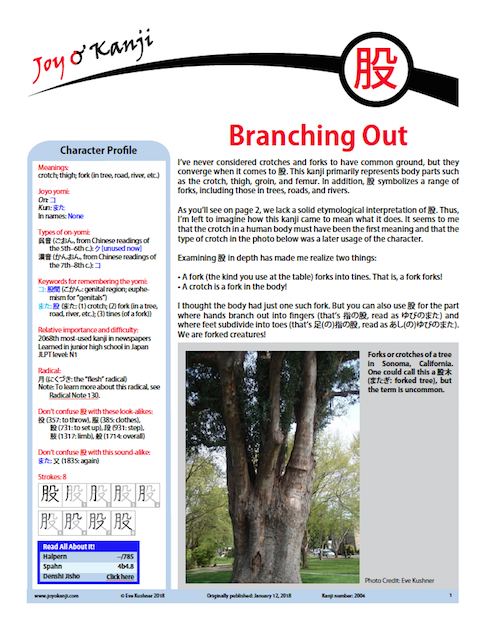 What does it mean to be born from the crotch of a tree? Why do some monkeys in Japan wear shorts? Why do some Japanese men go to sacred places in their underwear? Why would yakuza walk like ducks? Why does our kanji (as "thigh") factor into terms about wavering loyalty? The essay provides all these answers, also discussing mittens with just three compartments for fingers.
Using the accompanying game on the Character Home Page, you can practice the vocabulary in the essay after reading it.
Also, Ulrike has produced the following new-monics (which are free!):
才 (126: talent)
書 (142: writing)
材 (485: lumber)
財 (685: property)
閉 (968: to close)