What's New
Now Out: Essay 1997 on 憬 (to Yearn), 3 Revisions, and 6 New-Monics
Feb 17, 2017
The 245th essay has posted! Essay 1997 on 憬 (to yearn, long for; aspire to; admire; adore) is now available for purchase. Here's a preview: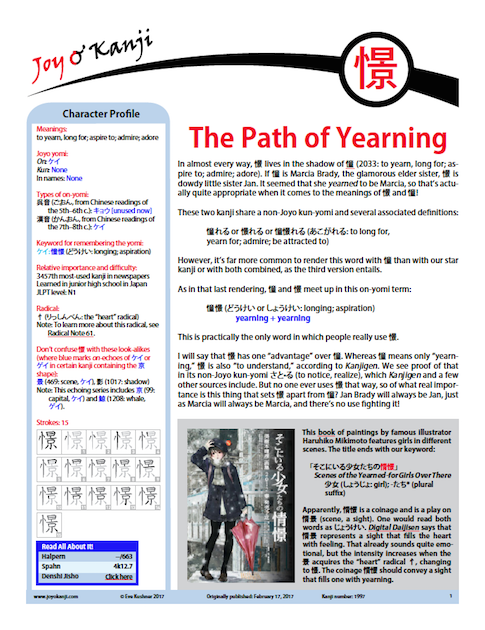 Our kanji will fill you with yearning, pining, and adoration. You can use it in a highbrow way when describing deep stirrings of the spirit and the life you long to have, or you can use it to talk about people you idolize or find hot. Learn about a festival featuring bamboo lanterns, illuminated buildings, and a "Path of Yearning." See how much 憬 shares with 憧 and how little sets them apart.
Using the accompanying game on the Character Home Page, you can practice the vocabulary in the essay after reading it.
Also, revisions of three essays have posted:
essay 1156 on 虚 (void, vacant; false, falsehood; futile)
essay 1255 on 香 (fragrance, sweet smell; incense; perfume; "perfume" radical)
essay 2033 on 憧 (to yearn, long for; aspire to; admire; adore)
Details about the changes are at the links. If you've bought these essays before or if you have a subscription, you can download the new versions for free.
Finally, Ulrike has produced a batch of new-monics (which are free!):
護 (670: to protect)
殻 (1075: shell)
獲 (1079: to catch game or fish)
穫 (1081: to harvest)
冗 (1416: redundant)
隻 (1483: one of a pair)