What's New
Now Out: Essay 1986 on 畿 (ancient Kyoto) and 5 New-Monics
Oct 5, 2018
The 310th essay has posted! Essay 1986 on 畿 (ancient Kyoto) is now available for purchase. Here's a preview: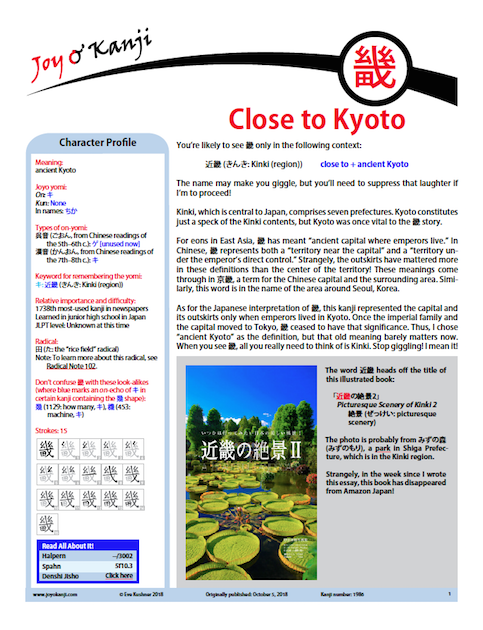 This essay presents everything you always wanted to know about the Kinki region but were afraid to ask! Learn the origin of the name "Kinki," and see how that region compares with Kansai. Find out about a railroad named after the tango, a snack that tastes like deep-fried meat, and old nomenclature for the Kinki area. Also discover what a 都道府県別 approach involves.
Using the accompanying game on the Character Home Page, you can practice the vocabulary in the essay after reading it.
Also, Ulrike created the following new-monics (which are free!):
伐 (1707: to cut down)
閥 (1710: clique)
哺 (1947: to suckle)
喉 (2007: throat)
拉 (2128: to abduct)