What's New
Now Out: Essay 1958 on 彙 (collection), a Radical Note, and 5 New-Monics
Sep 15, 2017
The 270th essay has posted! Essay 1958 on 彙 (collection) is now available for purchase. Here's a preview: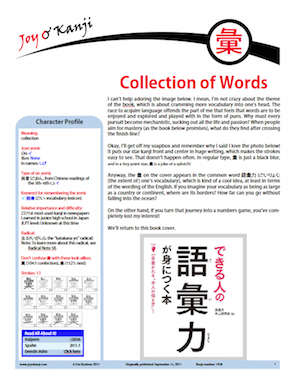 You likely know 単語 (たんご: vocabulary). One can think of 単語 as the equivalent of a single book in the library that 語彙 (ごい: vocabulary; lexicon) represents. The Japanese associate the size of a 語彙 with adulthood (whereas some in the U.S. correlate the size of something very different with manhood!). See how the Japanese use 語彙 and 語彙力 ("word power") syntactically.
Using the accompanying game on the Character Home Page, you can practice the vocabulary in the essay after reading it.
Also, Radical Note 58 on the "katakana yo" radical has become available. This resource is free!
Finally, Ulrike has produced the following new-monics (which are free!):
建 (473: to build)
健 (474: health)
硫 (1902: sulfur)
鍵 (2002: key)
訃 (2102: news of a death)