What's New
Now Out: Essay 1952 on 賂 (bribe) and 5 New-Monics
Aug 18, 2017
The 266th essay has posted! Essay 1952 on 賂 (bribe) is now available for purchase. Here's a preview: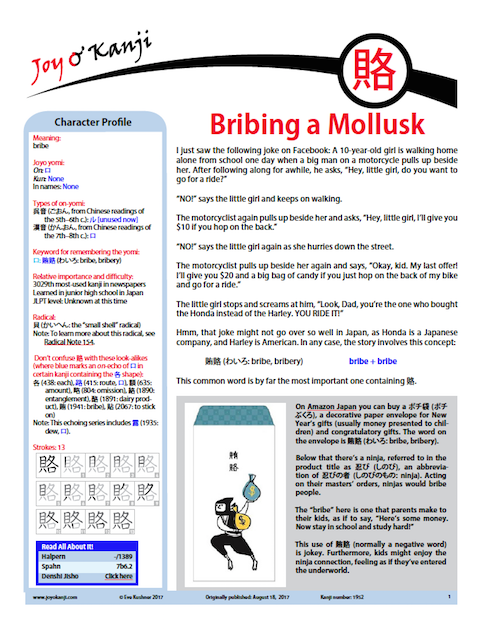 The Japanese are known for honesty, but there's still a long history of bribery (especially in the Edo era) and plenty of ways of talking about it. Learn to say, "Did you or did you not accept the bribe?", "Everybody suspected him of taking a bribe," and "He is the last man to take a bribe." Also find out about mnemonics involving Cairo and greasing someone's palm with mayonnaise!
Using the accompanying game on the Character Home Page, you can practice the vocabulary in the essay after reading it.
Also, Ulrike has produced the following new-monics (which are free!):
科 (81: academic subject)
外 (91: outside)
料 (599: fee)
斜 (1337: diagonal)
斗 (1633: dipper)