What's New
Now Out: Essay 1950 on 釜 (metal pot), 2 Revisions, and 5 New-Monics
May 4, 2019
The 333rd essay has posted! Essay 1950 on 釜 (metal pot) is now available for purchase. Here's a preview: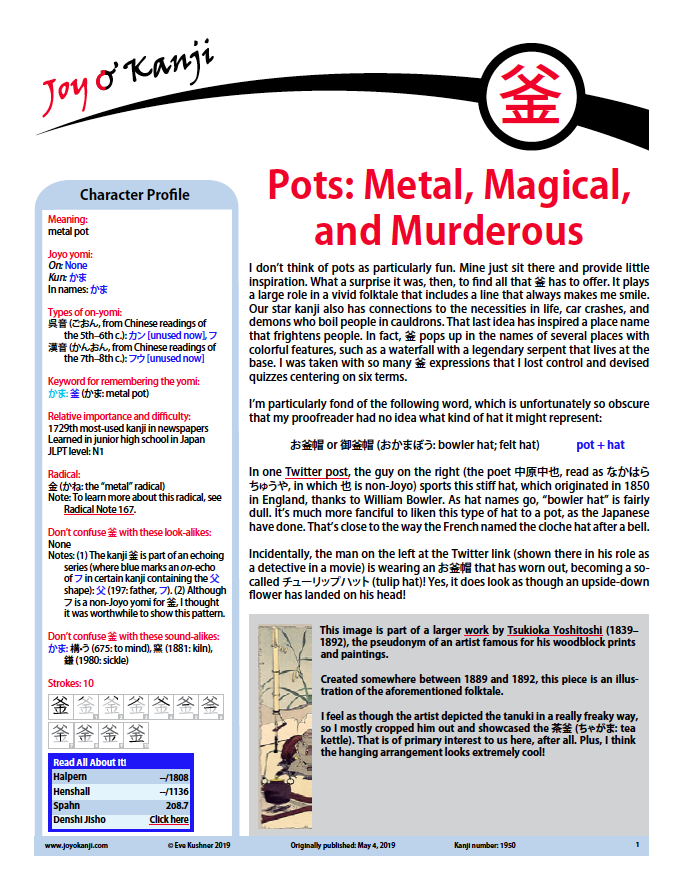 Pots look lifeless, but 釜 is full of fun. It plays a great role in a folktale and has connections to necessities in life, plus car crashes, cross-dressing, and demons who boil people in cauldrons. It pops up in colorful place names. And of course this kanji has a culinary side, appearing in terms for "rice cooker," the names of rice and udon dishes, a salty fish dish, a way of making tea, and more.
Using the accompanying game on the Character Home Page, you can practice the vocabulary in the essay after reading it.
Also, revisions of the following essays posted:
essay 1850 on 茂 (to grow thickly; be overgrown; bush; clump)
essay 1881 on 窯 (kiln; oven)
Details about the changes are at the links. If you've bought these essays before or if you have a subscription, you can download the new versions for free.
Finally, Ulrike created the following new-monics (which are free!):
黙 (1856: silent)
恋 (1931: romantic love)
蓋 (1978: cover)
鎌 (1980: sickle)
蹴 (2032: kick)