What's New
Now Out: Essay 1948 on 楷 (Square Character Style) and 5 New-Monics
Oct 14, 2016
The 230th essay has posted! Essay 1948 on 楷 (square character style) is now available for purchase. Here's a preview: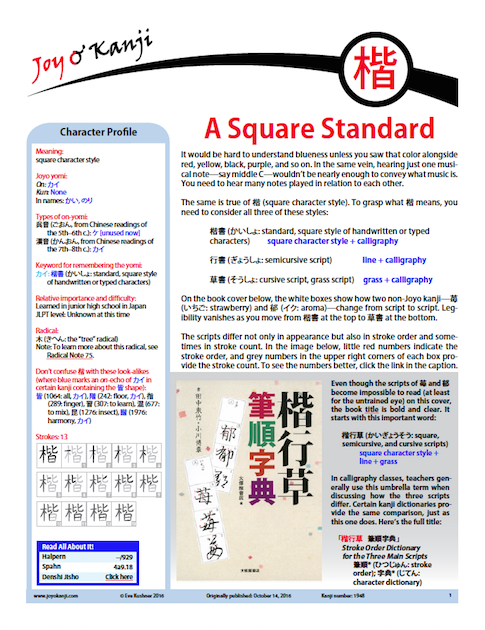 To understand Japanese writing fully, one needs to know about the three main scripts in which kanji and kana appear. Those styles affect stroke order, stroke count, and above all legibility! This essay contrasts the three main scripts and introduces three more, then focuses on the standard, square style, explaining how it looks and showing where one is most likely to encounter that style.
Using the accompanying game on the Character Home Page, you can practice the vocabulary in the essay after reading it.
Also, Ulrike has produced a batch of new-monics (which are free!):
悪 (222: bad)
園 (234: garden)
血 (270: blood)
衆 (705: the public)
亜 (997: sub-)