What's New
Now Out: Essay 1939 on 楼 (Multistory Building), a Revision, and 6 New-Monics
Oct 30, 2015
The 187th essay has posted! Essay 1939 on 楼 (multistory building; tower) is now available for purchase. Here's a preview: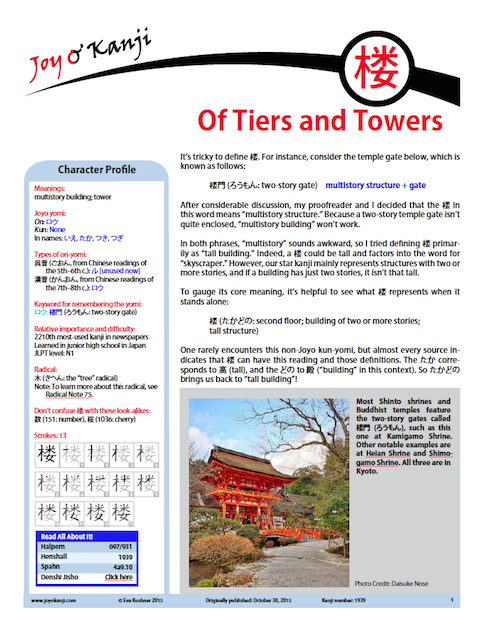 Enjoy gorgeous photos of temple bell towers and temple gates and discover the rich symbolism of their design features. See how a building can be a tower even if its width rivals its height. Learn to talk about "castles in the air." And find out why 楼 appears in terms related to brothels and in restaurant names, as well as the title of a Michael J. Fox movie and the name of a cliff.
Using the accompanying Phrase Maze game on the Character Home Page, you can practice the vocabulary in the essay after reading it.
There's also a newly posted revision of essay 1977 on 崖 (cliff, precipice). You'll find details at the link. If you've purchased this essay before or if you have a subscription, you can download a revised version for free.
Finally, Ulrike has produced a batch of new-monics (which are again free!):
青 (43: blue)
晴 (155: to clear up)
静 (519: quiet)
争 (529: to contend)
情 (719: emotion)
浄 (1417: clean)