What's New
Now Out: Essay 1938 on 廊 (Corridor), 3 Revisions, and 5 New-Monics
May 27, 2016
The 212th essay has posted! Essay 1938 on 廊 (corridor; gallery) is now available for purchase. Here's a preview: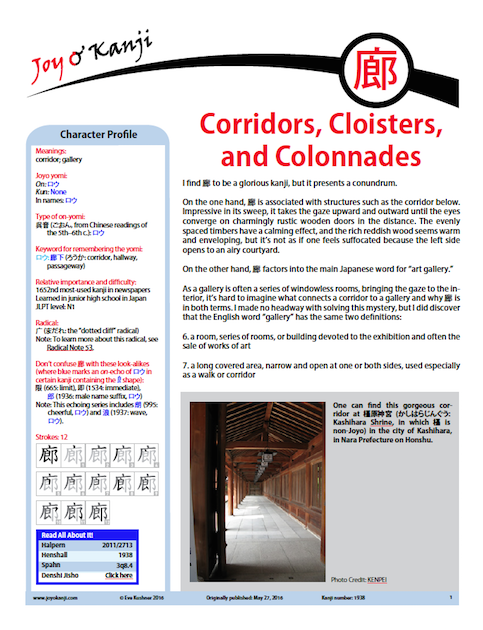 Lose yourself wandering down rustic wooden covered passageways that connect buildings at shrines and temples, keeping people dry while providing psychological benefits. See how such corridors qualify as cloisters when they wrap around courtyards or even seawater! Also learn about a Japanese writer who had connections to the Marquis de Sade and Yukio Mishima.
Using the accompanying Phrase Maze game on the Character Home Page, you can practice the vocabulary in the essay after reading it.
Also, revisions of the following essays have posted:
Details about the changes are at the links. If you have a subscription or if you've bought these essays before, you can download the revisions for free.
Finally, Ulrike has produced a batch of new-monics (which are also free!):
美 (376: beautiful)
品 (382: item)
操 (922: to control)
繰 (1190: to shift to the next stage)
燥 (1528: to dry up)