What's New
Now Out: Essay 1927 on 暦 (Calendar) and 5 New-Monics
Apr 8, 2016
The 205th essay has posted! Essay 1927 on 暦 (calendar, almanac) is now available for purchase. Here's a preview: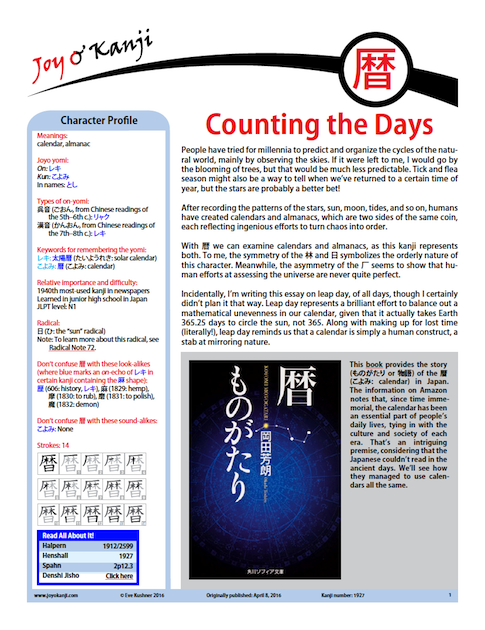 Learn why Amazon describes a new calendar as 新暦・旧暦. Find out about Japan's relatively recent switch to a solar calendar, an event that inspired a novel, manga, and movie! Learn to calculate age and the year in multiple ways, read about the significance of turning 60 in Japan, and learn about calendars for illiterates and flower calendars. Also see why one temple has 暦 in its name.
Using the accompanying Phrase Maze game on the Character Home Page, you can practice the vocabulary in the essay after reading it.
Also, Ulrike has produced a batch of new-monics (which are free!):
森 (38: forest)
鋭 (1018: sharp)
閲 (1023: to review)
鉛 (1029: lead)
凹 (1032: concave)