What's New
Now Out: Essay 1922 on 零 (zero) and 5 New-Monics
Sep 29, 2017
The 271st essay has posted! Essay 1922 on 零 (zero; to spill; small) is now available for purchase. Here's a preview: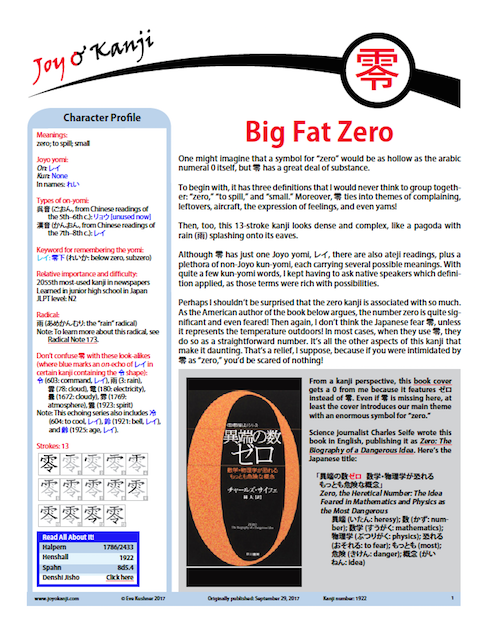 Knowing 零 gives you access to terms for subzero temperatures and 12:00. But far beyond that, truly grasping 零 enables you to say all of the following: "There is no chance of rain this weekend," "They were shut out two games in a row," "The sun peeked through," "The milk boiled over," "Hungry dogs were hoping for scraps," and "I beg you to overlook my offense." What a range!
Using the accompanying game on the Character Home Page, you can practice the vocabulary in the essay after reading it.
Also, Ulrike has produced the following new-monics (which are free!):
近 (103: near (in space or time))
収 (703: to collect)
率 (803: rate)
舷 (2003: gunwale)
阜 (2103: hill)