What's New
Now Out: Essay 1918 on 塁 ((baseball) base) and 5 New-Monics
Apr 6, 2018
The 291st essay has posted! Essay 1918 on 塁 ((baseball) base; fort) is now available for purchase. Here's a preview: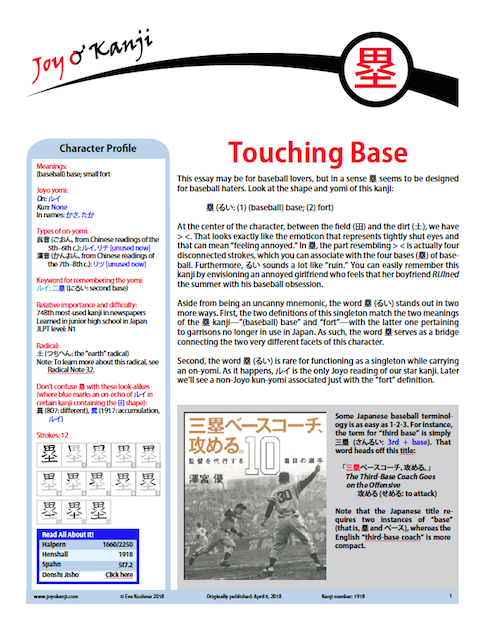 This kanji seems to be designed for baseball haters, but this essay is for baseball lovers. Learn to say that the first batter up got a single, Ishida stole third, a player was thrown out at second, and bases were loaded with two outs in the ninth inning. You'll even be able to say, "Matsui pulled the Giants back from the brink with a grand slam that gave them a come-from-behind victory."
Using the accompanying game on the Character Home Page, you can practice the vocabulary in the essay after reading it.
Also, Ulrike has produced the following new-monics (which are free!):
読 (189: reading)
南 (190: south)
売 (192: selling)
続 (536: to continue)
献 (1219: offering)