What's New
Now Out: Essay 1882 on 擁 (to embrace) and 5 New-Monics
Feb 14, 2020
The 362nd essay has posted! Essay 1882 on 擁 (to embrace; protect; support; have) is now available for purchase. Here's a preview: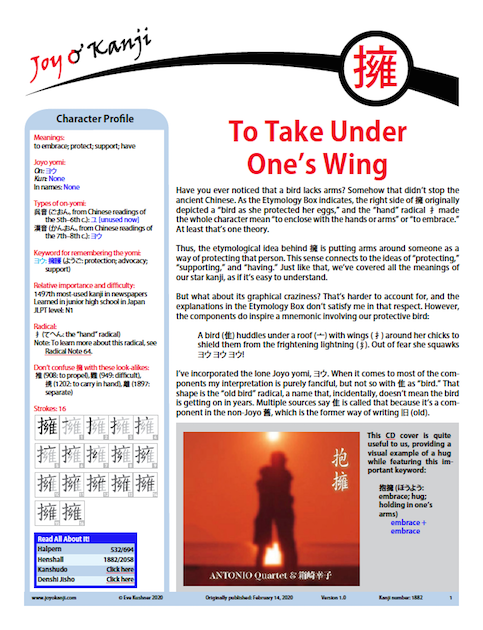 Become a champion! Learn to say, "She is an ardent supporter of women's rights," "We must fight for our democracy," "They stood up for the rights of their nation," "Human rights organizations are putting pressure on authoritarian governments," and "We put him up as a rival candidate." Also find out why so many birds are fluttering around kanji compounds involving protection.
Our setup with the games is changing. (It's a game changer!) For the moment, access the Kanshudo games by clicking the hyperlinked words.
Also, Ulrike created the following new-monics (which are free!):
卵 (990: egg)
阻 (1505: obstruction)
租 (1506: tax)
粗 (1508: coarse)
僧 (1525: Buddhist priest)