What's New
Now Out: Essay 1802 on 飽 (to have had enough), 2 Radical Notes, and 2 Revisions
Jul 22, 2022
The 450th essay has posted! Woohoo! That kind of round number sounds so beautiful to me! Essay 1802 on 飽 (to have had enough) is now available for purchase. Here's a preview: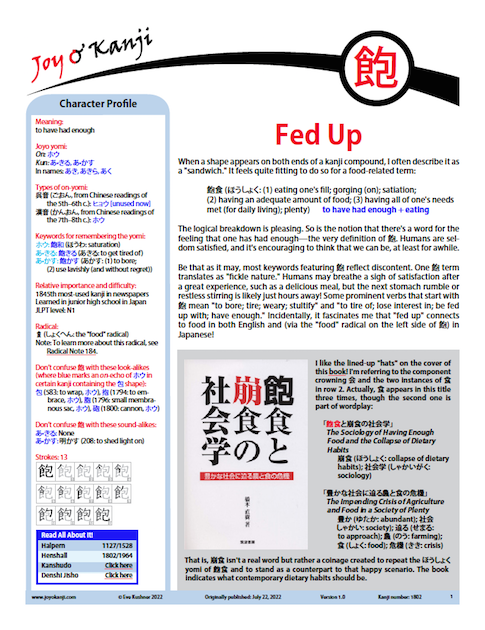 With 飽 you can complain that you're tired of things, including "the monotony of daily life." Of course, someone may reply, "I'm getting sick of hearing you complain," again using 飽. It's not all negative; this kanji enables you to say, "His unceasing efforts to achieve success have made him what he is today." See why it takes courage to lose interest and why we crave change after 7 years.
Two Radical Notes have also posted:
Find out how the radical in 比 (771: to compare) relates to the katakana ヒ and to two other radicals.
Learn about the radical in 毛 (210: hair), and discover where it exists in triplicate!
Finally, I've slightly revised two essays:
Check the links for details. If you've bought these before or if you have a subscription, you can download the new versions for free.
Ulrike will return with more great mnemonics.