What's New
Now Out: Essay 1795 on 泡 (Bubble) and 6 New-Monics
Feb 11, 2017
The 244th essay has posted! Essay 1795 on 泡 (bubble) is now available for purchase. Here's a preview: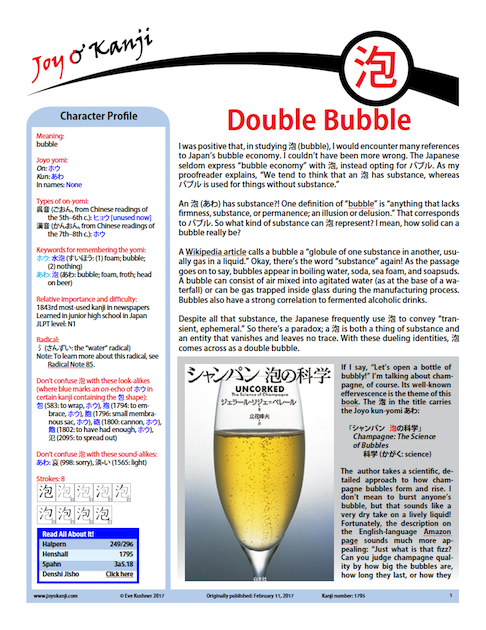 Learn to talk about bubble baths, soapsuds, frothy waves, and whipped cream, as well as many types of alcohol, from bubbling champagne, foaming beer, and sparkling wine to happoshu, Hoppy mixed with shochu, and awamori. Find out what it means to "eat bubbles." Also discover ways of saying that efforts are in vain or that things (including companies) are as short-lived as bubbles.
Using the accompanying game on the Character Home Page, you can practice the vocabulary in the essay after reading it.
Also, Ulrike has produced a batch of new-monics (which are free!):
慨 (1070: to lament)
概 (1072: approximation)
汗 (1094: sweat)
既 (1126: already)
吟 (1182: to recite)
牙 (1972: tusk)