What's New
Now Out: Essay 1788 on 慕 (to adore), 4 Revisions, and 6 New-Monics
Apr 13, 2023
The 483rd essay has posted. Essay 1788 on 慕 (to adore; admire) is now available for purchase. Here's a preview: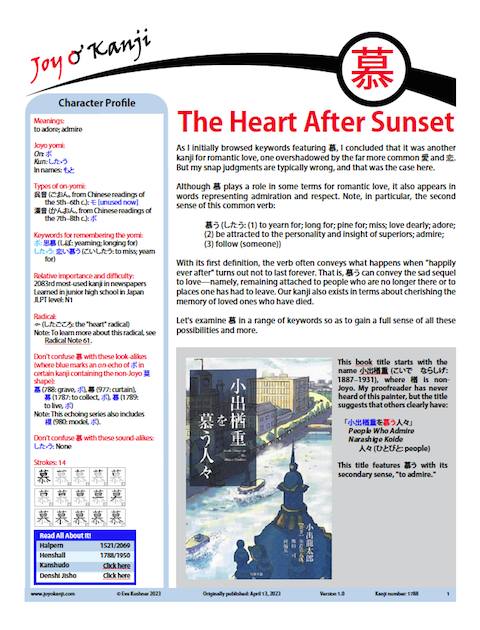 With 慕 we can express nonromantic love, as in sentences that mean "The girl is deeply attached to her aunt," "He is longing for his mother," and "He was pining for his hometown." But 慕 can also represent romantic adoration, as in "She went to Tokyo to follow the man she adored." See why one would use 喪う over 失う and what it means to steer a ship up a mountain.
Four revisions have also posted:
Check the links for details about the changes. If you've bought these essays before or if you have a subscription, you can download new versions for free.
Finally, Ulrike has created these new-monics, which are free:
望 (585: to hope)
牧 (586: to raise livestock)
浴 (595: to bathe)
降 (863: to come down)
刻 (865: to carve)
困 (868: to be in trouble)