What's New
Now Out: Essay 1744 on 賓 (Guest) and 5 New-Monics
Apr 21, 2017
The 252nd essay has posted! Essay 1744 on 賓 (guest, visitor) is now available for purchase. Here's a preview: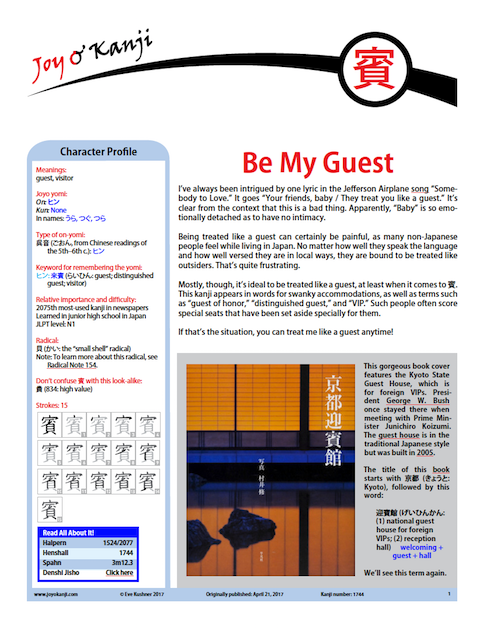 Learn to talk about guests, whether they're party guests enjoying refreshments, foreign guests in Kyoto ryokans, guest speakers, or a queen who is guest of honor at a ceremony. Also learn words related to VIPS (e.g., imperial family members or CEOs). See pictures of posh state guest houses where U.S. presidents have stayed. And discover two connections between pigs and guests!
Using the accompanying game on the Character Home Page, you can practice the vocabulary in the essay after reading it.
Also, Ulrike has produced a batch of new-monics (which are free!):
担 (929: to shoulder)
垣 (1073: hedge)
肝 (1096: liver)
但 (1559: provided that)
旦 (2063: dawn)