What's New
Now Out: Essay 1740 on 苗 (Seedling), a Revision, and 6 New-Monics
Nov 13, 2015
The 189th essay has posted! Essay 1740 on 苗 (seedling (esp. rice)) is now available for purchase. Here's a preview: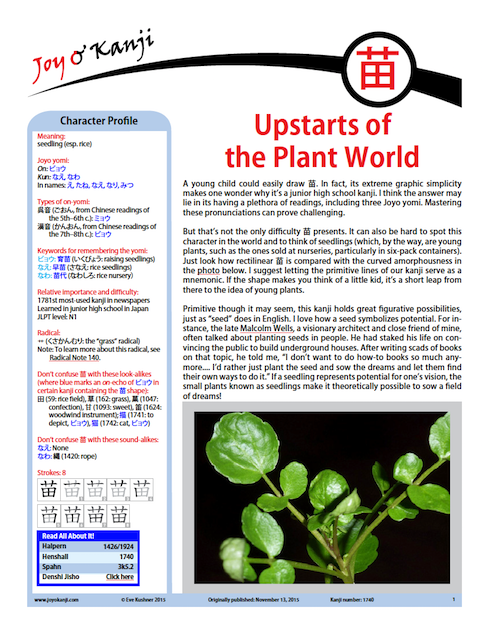 Find out about the literal side of 苗 (e.g., all that happens before rice seedlings go into paddies) and the figurative aspects of 苗 (e.g., when the "seedlings" of a culture bear delicious fruits). See how seedlings played key roles in "The Mutiny on the Bounty" and in one Nobel Peace Prize winner's work. Also discover why 苗 can mean "Hmong" and how it relates to smallpox.
Using the accompanying Phrase Maze game on the Character Home Page, you can practice the vocabulary in the essay after reading it.
There's also a new revision of essay 1189 on 掘 (to dig, excavate). You'll find details at the link. If you've purchased this essay before or if you have a subscription, you can download a revised version for free.
Finally, Ulrike has produced a batch of new-monics (which are again free!):
肉 (365: flesh)
付 (574: to attach)
府 (575: prefecture)
附 (1750: to attach)
符 (1753: symbol)
腐 (1755: to decay)