What's New
Now Out: Essay 1737 on 泌 (Secretion) and 8 New-Monics
Sep 18, 2015
The 182nd essay has posted! Essay 1737 on 泌 (secretion) is now available for purchase. Here's a preview: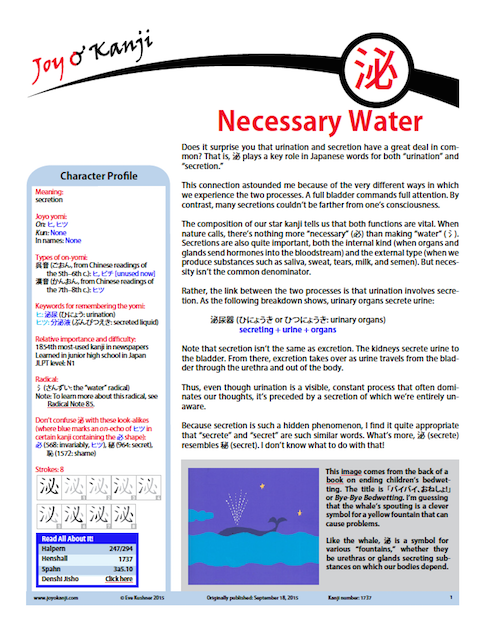 Find out what urination and secretion have in common in Japanese, read about the endocrine and exocrine systems, learn which substances we secrete rather than excrete, and see why urology and dermatology are closely associated in Japan. Learn to say, "An excessive lifestyle throws hormones out of balance." Also see which animal secretions you can buy and why you might want them!
Using the accompanying Phrase Maze game on the Character Home Page, you can practice the vocabulary in the essay after reading it.
Also, Ulrike has produced a batch of new-monics (which are free!):
険 (662: danger)
減 (667: to decrease)
故 (668: deceased)
査 (678: investigation)
志 (692: intention)
資 (694: funds)
識 (698: discernment)
誌 (880: magazine)