What's New
Now Out: Essay 1736 on 匹 (counter for small animals) and 5 New-Monics
Feb 2, 2018
The 284th essay has posted! Essay 1736 on 匹 (counter for small animals; pair; one in a pair) is now available for purchase. Here's a preview: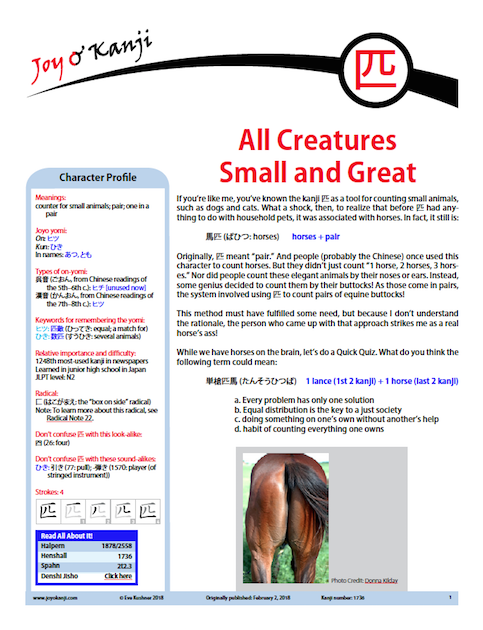 See why a horse's rear appears on the front of this essay, particularly when a horse isn't small. Find out how lone wolves differ from shut-ins, and see why one Japanese author critiqued Japan as a "lone wolf country." Learn to say "Her English is as good as the teacher's" and "He keeps some mice for research purposes." Discover what it takes to be a manly man in Japan!
Using the accompanying game on the Character Home Page, you can practice the vocabulary in the essay after reading it.
Also, Ulrike has produced the following new-monics (which are free!):
秋 (140: autumn)
新 (148: new)
図 (150: illustration)
愁 (1357: sorrow)
薪 (1445: firewood)