What's New
Now Out: Essay 1730 on 扉 (Door) and 10 New-Monics
Sep 4, 2015
The 180th essay has posted! Essay 1730 on 扉 (door, hinged door; title page) is now available for purchase. Here's a preview: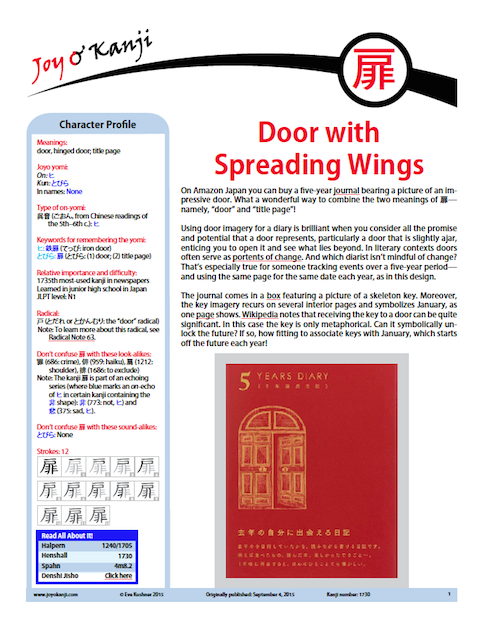 Knowing 扉 will open doors for you! Learn about 扉 as a door to buildings, cabinets, shrines, and even trucks. Discover how the Japanese associate 扉, 戸, and ドア with different types of doors. See how 扉 works as a metaphorical door to the heart, the unknown world, and more. And find out how doors can connect to a goddess, book layouts, filleting methods, and even executions of war criminals.
Using the accompanying Phrase Maze game on the Character Home Page, you can practice the vocabulary in the essay after reading it.
Moreover, Ulrike has produced a batch of new-monics (which are free!):
同 (187: same)
境 (651: boundary)
興 (652: fun)
均 (653: even)
禁 (654: prohibition)
経 (658: to pass through)
銅 (758: copper)
襟 (1181: collar)
洞 (1661: cave)
胴 (1662: torso)
This batch is particularly powerful. During boring poses in my yoga class yesterday, my mind kept wandering back to 均, 禁, and 襟 and what Ulrike wrote about them!